Movie News
"The Mummy 3" Not Yet Approved for Chinese Release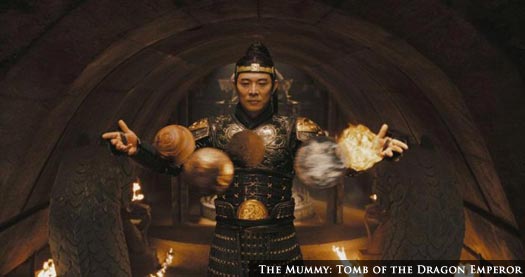 Universal will have to make changes to "The Mummy: The Tomb Of The Dragon Emperor" in order to get the film released in China. According to Variety, upcoming release of "The Mummy 3" is still pending until Universal makes unspecified changes to the flick. The censors didn't give any details about what would have to be cut from the film, but speculation has it that the source of the problem is "usually themes involving ghosts are taboo in China". A spokesman for Universal said:
"Universal does not anticipate any obstacles to clearing the film for China and looks forward to releasing The Mummy: Tomb Of The Dragon Emperor in the country where it was set and shot."
Translation: "We just spent $145 million bucks on this movie, and we want some of those Chinese box-office dollars." The film takes place in the Far East, trouble-seeking father-and-son duo Rick (Brendan Fraser) and Alex O'Connell (Luke Ford) unearth the mummy of the first Emperor of Qin (Jet Li) – a shape-shifting entity who was cursed by a wizard (Michelle Yeoh) centuries ago. Director is Rob Cohen (Fast and the Furious, XXX). "The Mummy 3″ is scheduled to hit theaters on August 1st.