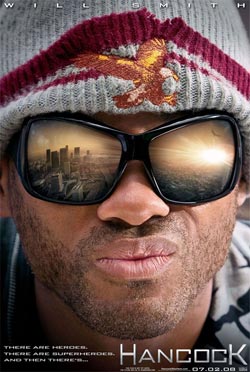 "
Hancock
" cross $100m overseas by Friday (103,9) and
Sony Pictures
Releasing International (SPRI) top brass expect the picture to begin the serious business of consolidating its early gains this weekend. Strong holds in previously opened territories like the UK, Germany, South Korea, China, Brazil and Taiwan will also drive business. Elsewhere, SPRI's romantic comedy "
Made Of Honor
", currently on $50.6m, arrives in Japan on July 12 and horror tale Prom Night lands in Italy on July 11. The Adam Sandler comedy You Don't Mess With The Zohan has reached $23.2m. Paramount/PPI's hit "
Kung Fu Panda
" from DreamWorks Animation stands at $173.1m and opens in a further 12 territories this weekend including France on July 9 and Spain on July 11. The Mike Myers comedy "
The Love Guru
" ventures into Australia on July 10. The adventure Indiana Jones And The Kingdom Of The Crystal Skull stands at $434.1m. Universal/UPI's action title "
Wanted
" has raced to $70.4m and should continue to prosper when it opens in six further territories this weekend including South Africa on July 11. Executives will expect the musical adaptation "
Mamma Mia!
" to be on song when it opens in 11 including Australia and New Zealand on July 10 and expands wide in the UK on July 11. The fantasy action sequel "
Hellboy II: The Golden Army
" opens day-and-date in Singapore, Malaysia and Thailand on July 10 and director Guillermo del Toro's home country Mexico on July 11. Comedy "
Balls Of Fury
" arrives in Germany on July 10, while the Spanish horror title [Rec] opens in South Korea on July 10. Fox International launches the Eddie Murphy comedy "
Meet Dave
" in 19 territories day-and-date with North America, among them Australia, Russia and New Zealand on July 10. M Night Shyamalan's mystery "
The Happening
" has reached $80.5m including India, where it was not released by Fox International. The animated picture "
Horton Hears A Who
" touches down in Japan on July 12 and historical epic Red Cliff opens in Taiwan on July 10. Romantic comedy "
What Happens In Vegas
" stands at $128.5m. Warner Bros Pictures International is lying low this weekend ahead of next week's hugely anticipated launch of "
The Dark Knight
". "
Get Smart
", the comedy adaptation that stars Steve Carell, has amassed $37.3m and debuts in Italy on July 9. Walt Disney Studios Motion Pictures International's fantasy adventure sequel "
The Chronicles of Narnia: Prince Caspian
"
stands at $204m and opens in three smaller European markets this weekend. The Pixar hit "
Wall-E
" is in the early stages of release on $24.9m and lands in Argentina on July 10 and South Africa on July 11. New Line International's TV adaptation "
Sex And The City
" stands at $214.3m.