Movie Posters
'The Second Coming' Is Actually THE LAST EXORCISM PART II Poster!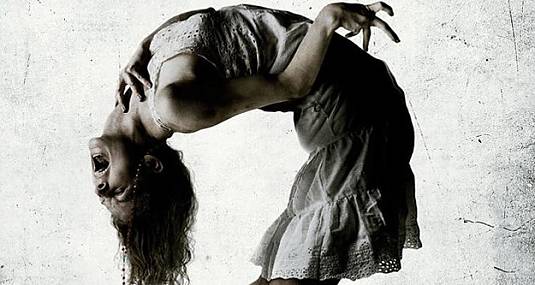 Here it is, the official poster for the upcoming horror movie
The Last Exorcism 2
(never the last one, by the way), and as usual we're here to share the fun with you. One thing is definitely interesting – it's always like: hey, I'm that evil force, I will make you look like a shit and I'll turn you upside down, or backwards, or whatever. And call me crazy, but I'm thinking about Leslie Nielsen's
Father Jebedaiah Mayii
right now, and his legendary:
Could it be she had PMS
? Anyway, let me once again remind you that the movie comes from director
Ed Gass-Donnelly
, who also co-wrote the script with
Damien Chazelle
. The story will continue right where the first film left off, or if you prefer the official synopsis part:
Nell Sweetzer is found terrified and alone in rural Louisiana. Back in the relative safety of New Orleans, Nell realizes that she can't remember entire portions of the previous months only that she is the last surviving member of her family.
The Last Exorcism 2
stars
Ashley Bell
as Nell Sweetzer, while the rest of the cast also includes
Spencer Treat Clark
,
Andrew Sensenig
,
Judd Lormand
,
Julia Garner
and
Muse Watson
, & the movie is set to open on March 1st, 2013. Click on the poster to take a better look at lovely Nell Sweetzer, and let us know what you think!