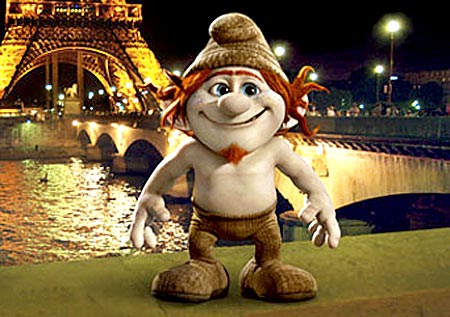 Columbia Pictures and Entertainmwent Weekly

have released the first look photo from The Smurfs 2, uncovering a very first look at the animated film's new villainous characters Vexy (voiced by Christina Ricci,) and Hackus (voiced by J B Smoove), who are both known as Naughties and they are created

by Gargamel (Hank Azaria).

The filmmaker, Raja Gosnell, revealed that The Naughties are not necessarily "evil," but they weren't brought up in the right environment.
"They're not bad, they're misguided. They're just products of their upbringing. And they haven't had the best upbringing, let's say."
Here's the synopsis for the film
Gargamel creates a couple of mischievous Smurf-like creatures called the Naughties that he hopes will let him harness the all-powerful, magical Smurf-essence. But when he discovers that only a real Smurf can give him what he wants — and only a secret spell that Smurfette knows can turn the Naughties into real Smurfs — Gargamel kidnaps Smurfette and brings her to Paris, where he has been winning the adoration of millions as the world's greatest sorcerer. It's up to Papa, Clumsy, Grouchy, and Vanity to return to our world, reunite with their human friends Patrick and Grace Winslow, and rescue her! Will Smurfette, who has always felt different from the other Smurfs, find a new connection with the Naughties Vexy and Hackus – or will the Smurfs convince her that their love for her is True Blue?
The Smurfs 2 also  features voice acting from Neil Patrick Harris, Jayma Mays, Sofia Vergara, Brendan Gleeson, Katy Perry, Jonathan Winters, Alan Cumming, Fred Armisen, George Lopez, Anton Yelchin and John Oliver, among others, and comes out July 31st, 2012. [source: EW]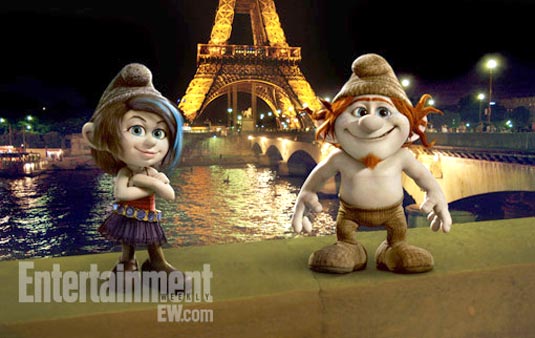 Vexy and Hackus, The Smurfs 2