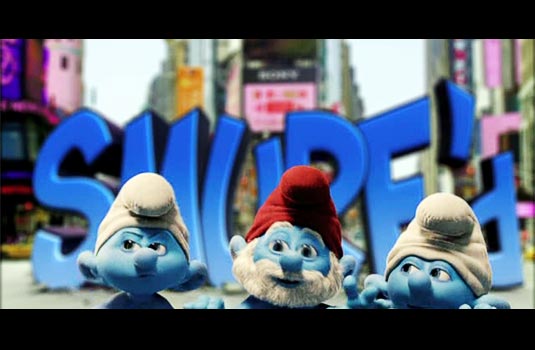 We just showed you the first photo from the big screen adaption of 
The Smurfs
and today we have the official teaser trailer. In the 3D August 3, 2011 release, the evil wizard Gargamel chases the tiny blue Smurfs out of their village and they tumble from their magical world into ours – in the middle of Central Park. Just three apples high and stuck in the Big Apple, the Smurfs must find a way to get back to their village before Gargamel tracks them down.
Neil Patrick Harris, Jayma Mays, Sofia Vergara
, and
Hank Azaria
star on camera opposite an all-star voice cast.
Anton Yelchin
will play
Clumsy Smurf
; comedy legend
Jonathan Winters
, who voiced roles in the "Smurfs" television series, will voice Papa Smurf; Grammy-nominated singer-songwriter
Katy Perry
will play Smurfette;
Alan Cumming
will play Gutsy Smurf; "SNL's"
Fred Armisen
will voice Brainy Smurf; and
George Lopez
will play Grouchy Smurf.
The Smurfs
is directed by
Raja Gosnell
. The screenplay is by J. David Stem & David N. Weiss and Jay Scherick & David Ronn, based on the characters and works of Peyo. The producer is Jordan Kerner and Ezra Swerdlow, Ben Haber, and Paul Neesan are the executive producers.