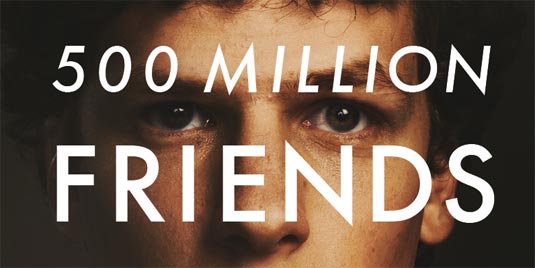 Columbia Pictures has unveiled the official poster for director David Fincher's The Social Network.
The film, based on the book "Accidental Billionaires: The Founding of Facebook, A Tale o Sex, Money, Genius, and Betrayal," focuses on the drama behind the Harvard dorm room creation of popular social networking site Facebook by Mark Zuckerberg and his roommates.
The picture's cast includes Jesse Eisenberg as Zuckerberg (not a close resemblance really), Justin Timberlake as Napster founder Sean Parker (an eventual executive in the company) as well as Andrew Garfield, Rooney Mara, Rashida Jones and Max Minghella.  Powerhouse producers Scott Rudin , Mike DeLuca and Kevin Spacey make the creative mix even more intriguing.
Aaron Sorkin (Charlie Wilson's War) wrote the script for The Social Network, which will hit theaters on October 15th.
Related Topics:
Aaron Sorkin, Andrew Garfield, Charlie Wilson, David Fincher, Jesse Eisenberg, Justin Timberlake, Kevin Spacey, Mark Zuckerberg, Max Minghella, Rashida Jones, Rooney Mara, Scott Rudin, The Social Network