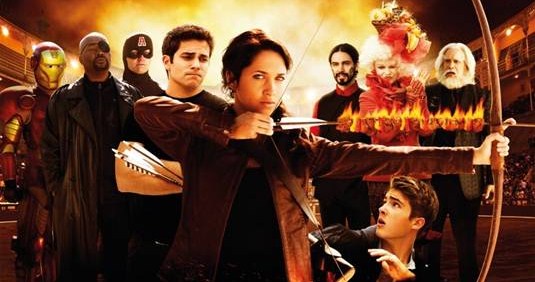 The very first trailer (plus poster & images) for The Starving Games aka The Hunger Games spoof has arrived, and as usual we're here to share the fun with you! Well, to be honest, it's not all about Suzanne Collins' Panem, they mess with The Expendables, The Avengers, Sherlock Holmes and even with Harry Potter in this one. Take a look and let us know what you think…
Written and directed by Jason Friedberg and Aaron Seltzer, the upcoming spoof film is based on this year's runaway hit The Hunger Games, but as we said, the parodies incorporate other recent big screen hits like Marvel's The Avengers, Harry Potter and the Deathly Hallows – Part 2 and Sherlock Holmes: A Game of Shadows.
The main plot will revolve around a group of obese teenagers forced to eat to the death at a Las Vegas buffet by a government who feels fat kids are out of control.
The Starving Games cast includes Maiara Walsh, Matt Cook, Lauren Bowles, Alexandria Deberry, Brant Daugherty, Cody Christian, Shawn Carter Peterson and Nick Gomez, and (un)fortunately, the movie is still without an official release date.
So, any thoughts about this?