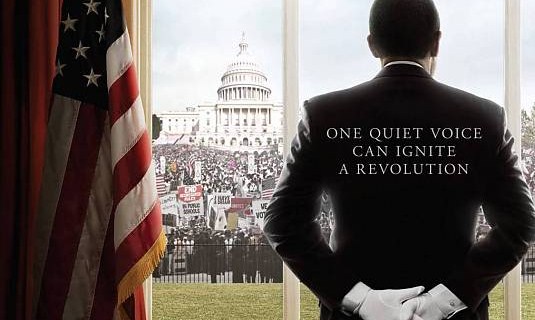 The first official poster for Lee Daniels' upcoming historical drama The Butler has arrived just in time to remind us all that some seriously good cast is on board! Last month, we shared the first trailer for the pic, so you already know it looks fantastic, right? Now head inside and take a better look at Forest Whitaker, whose quite voice can ignite a revolution… Lee Daniels co-wrote the script for the whole thing together with Danny Strong, and as we previously reported, the film revolves around a White House butler named Cecil Gaines who served eight American presidents from 1952 to 1986. Beside awesome Whitaker who plays the butler, the rest of the cast includes Oprah Winfrey, Mariah Carey, John Cusack, Jane Fonda, Cuba Gooding, Jr., Terrence Howard, Minka Kelly, Lenny Kravitz, Melissa Leo, James Marsden, David Oyelowo, Alex Pettyfer, Vanessa Redgrave, Alan Rickman, Liev Schreiber and Robin Williams. Impressive, indeed!
The film traces the dramatic changes that swept American society during this time, from the civil rights movement to Vietnam and beyond, and how those changes affected this man's life and family.
The Butler has a new release date and is now set to open on August 16th, 2013. Click on the poster to enlarge & don't forget to let us know what you think about the movie!