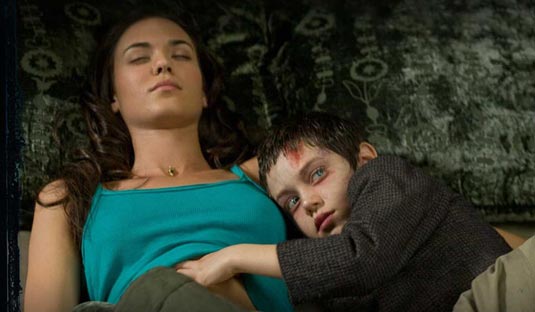 Rogue Pictures provided us with a gallery of new photos and clips from "The Unborn." The studios has launched both the official website and MyTwinHauntsMe.com for "The Unborn." At the official site, you can watch the trailer, but between the hours of 9pm and 9am you can also see the exclusive "After Hours" version of the trailer!

Casey Bell (Yustman) hated her mother for leaving her as a child. But when inexplicable things start to happen, Casey begins to understand why she left. Plagued by merciless dreams and a tortured ghost that haunts her waking hours, she must turn to the only spiritual advisor, Sendak (Oldman), who can make it stop.

With Sendak's help, Casey uncovers the source of a family curse dating back to Nazi Germany-a creature with the ability to inhabit anyone or anything that is getting stronger with each possession. With the curse unleashed, her only chance at survival is to shut a doorway from beyond our world that has been pried open by someone who was never born.

The film is written and directed by David S. Goyer, ("Blade: Trinity" director and "Batman Begins" and "The Dark Knight" screenwriter)

"Unborn" is set to open January 9th 2009.
The Unborn: RUN Clip
The Unborn: Library Clip
The Unborn: An Investigation
The Unborn: Creepy Kid
The Unborn: Bedroom Clip
The Unborn: Trailer