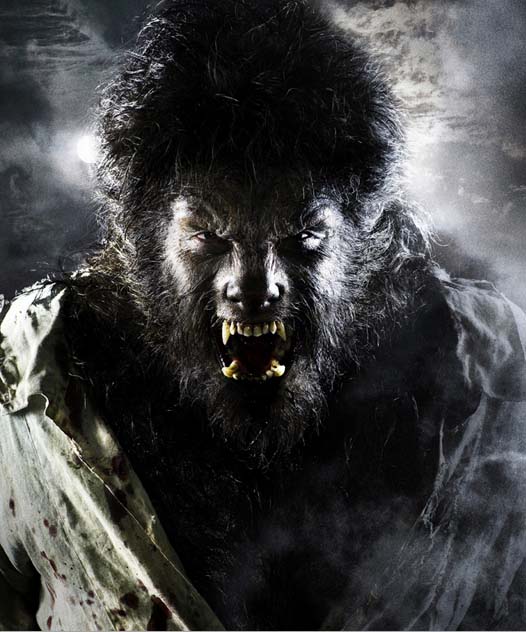 EW.com
has a first look at
Benicio Del Toro
as
The Wolfman
in director
Joe Johnston
's new film, which Universal Pictures will release on February 13, 2009.
Anthony Hopkins, Emily Blunt
and
Hugo Weaving
co-star in the horror pic in which a man (Del Toro) gets bitten by a werewolf and begins a hairy moonlight existence. Synopsis
Universal Studios resurrects the classic lycanthrope with this tale of a man who experiences an unsettling transformation after he returns to his ancestral home in Victorian-era Great Britain and gets attacked by a rampaging werewolf. When Ben Talbot (Simon Merrells) vanishes into thin air, his brother Lawrence (Benicio Del Toro) returns to his family estate to investigate. Upon reuniting with his estranged father, Sir John Talbot (Anthony Hopkins), however, he discovers a destiny far darker than his blackest nightmares. Ben is dead; the victim of a savage attack by a beast that keeps the superstitious locals cowering in fear every time the moon shines bright in the sky. Shortly after discovering his brother's true fate, Lawrence swears to Ben's wife, Gwen (Emily Blunt), that he will bring her late husband's killer to justice. As a young boy, the untimely death of his mother caused Lawrence to grow up before his time. Though Lawrence had previously attempted to bury his pain in the past by leaving the quiet Victorian hamlet of Blackmoor behind, he discovers that you can't outrun fate when he's attacked by the very same nocturnal beast that claimed his brother. Not even recently arrived Scotland Yard inspector Aberline (Hugo Weaving) can dream up a rational explanation for the gruesome spell cast over Blackmoor, yet rumors of an ancient curse persist. According to legend, the afflicted will experience a horrific transformation by the light of the full moon. Now, the woman Talbot loves is in mortal danger, and in order to protect her he must venture into the moonlit woods and destroy the beast before it destroys her. But this isn't a typical hunt, because before the beast can be slain, a simple man will uncover a primal side of himself that he never knew existed. Screenwriter Andrew Kevin Walker pens a film directed by Joe Johnston and featuring creature effects by special-effects makeup legend Rick Baker.