Movie News
THE WORLD'S END Will Arrive Two Months Earlier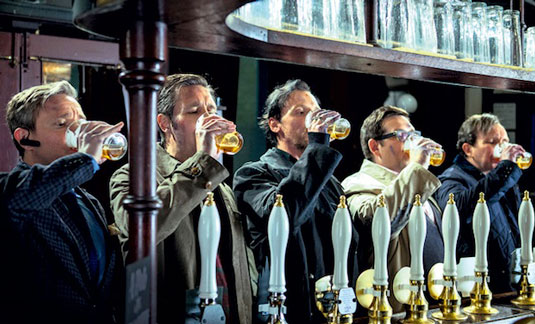 Edgar Wright's upcoming feature, The World's End, was shot last September – the film appears to be already complete and its U.S. date has been moved up two months, arriving by the end of the summer. Originally scheduled for an October 25th release, Universal Pictures has moved the date up to a late summer, August 23rd, 2013 date; just a week after its August 14th date in Wright's native U.K. Here's the official synopsis:
20 years after attempting an epic pub crawl, five childhood friends reunite when one of them becomes hell bent on trying the drinking marathon again. They are convinced to stage an encore by mate Gary King, a 40-year old man trapped at the cigarette end of his teens, who drags his reluctant pals to their home town and once again attempts to reach the fabled pub, The World's End. As they attempt to reconcile the past and present, they realize the real struggle is for the future, not just theirs but humankind's. Reaching The World's End is the least of their worries.
An apocalyptic sci-fi-ish comedy, the film is third and final installment in Wright's "Three Flavours Cornetto trilogy," and follows a group of friends reattempting an "epic" pub crawl. Starring Simon Pegg, Nick Frost, Paddy Considine, Martin Freeman, Eddie Marsan and Rosamund Pike, the cast is kind of a creme de la creme of the U.K's greatest working players.