Movie News
THOR: THE DARK WORLD Shoots Massive Extraterrestrial Battle in U.K.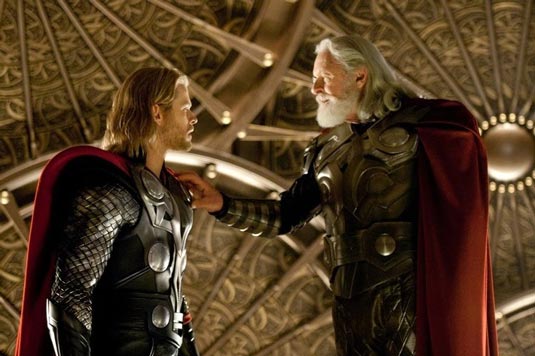 Marvel Studios has several productions queueing up, although they only shoot one project at a time. The studio is currently shooting
Iron Man 3
, with
Thor: The Dark World
set to begin production right on its tail. Today, we have word that this superhero sequel will start shooting in Surrey, England in early September, with preparation to begin next month in the Bourne woods area. Local residents were sent a letter that reveals details about a project dubbed "Thursday Mourning," described as a "comic book movie set in a 'fictional realm.' They don't
actually
say it is the Thor's sequel, but there isn't any other film this could imply to. For that matter, have a look at an excerpt from the letter, detailing a key scene: "We plan to start preparation in Bourne woods in the week of 6th August for a period of 5 weeks where a temporary set will be constructed within the bowl area. Filming is scheduled to take place for approximately 10 days from 10th September TBC. All of the proposed sequence is due to take place during the day. There is no night filming. We will be establishing a fictional village set in another realm, with yurts and village like dressing in the bowl. The sequence involves a battle between two kingdoms, ending in our comic book hero arriving to save the day. The sequence will involve a substantial amount of Stunts and controlled special effects all within the hours 0700 – 1900hrs. We plan to use most of the areas that are usually occupied by film units for all our support vehicles. The sequence will involve approximately 300 extras who will arrive in the early hours prior to call time to go through costume and makeup, which we will undertake in marquees positioned on site. As always we will endeavour to keep any noise disruption to an absolute minimum." If you're interested, you can read the full letter
here
. Directed by
Alan Taylor
, Thor: The Dark World comes to theaters on November 8th, 2013 and stars
Chris Hemsworth
,
Natalie Portman
,
Tom Hiddleston
,
Jaimie Alexander
,
Idris Elba
,
Stellan Skarsgard
and others.