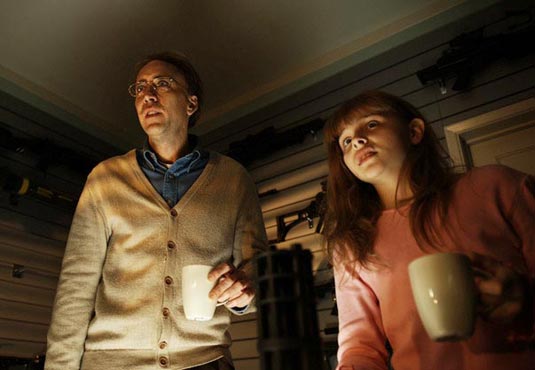 HitFix.com has debuted three new images from the upcoming comic-book adaptation "Kick-Ass." One of the photos is the first official look at Nicolas Cage.
Dave Lizewski (Aaron Johnson) is an unnoticed high school student and comic book fan with a few friends and who lives alone with his father. His life is not very difficult and his personal trials not that overwhelming. However, one day he makes the simple decision to become a super-hero even though he has no powers or training.
The film is based on the Mark Millar and John Romita Jr. graphic novel, directed by Matthew Vaughn (Stardust, Layer Cake) and stars Nicolas Cage, Aaron Johnson, Lyndsy Fonseca, Mark Strong, Christopher Mintz-Plasse, Clark Duke and Chloe Moretz. John Romita Jr will get his directorial debut by directing an animated flashback sequence in the film.
Watch for "Kick-Ass" in theaters sometimenext in 2009.