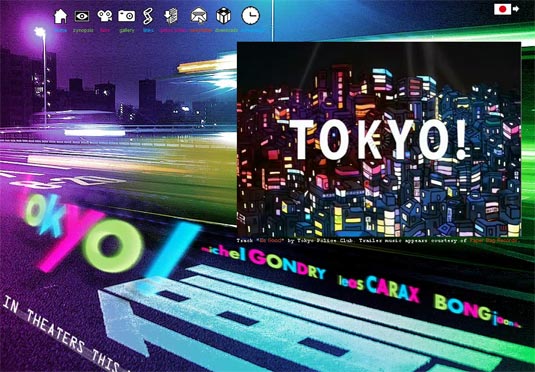 The New York release of anthology film called "
Tokyo!
" is right around the corner! In honor of next week's release,
Liberation Entertainment
and
Vitagraph Films
have just provided three new clips from the film. The film is directed by Michel Gondry (Enternal Sunshine of the Spotless Mind), Leos Carax (The Loves on the Bridge) and Bong Joon-ho (The Host), each direct a segment of this surreal triptych film.
"Interior Design" (Dir. Michel Gondry): Dead Cat clip
[youtube]http://www.youtube.com/watch?v=WIJ7zgPtu9s[/youtube]
Hiroko and Akira (Ayako Fujitani and Ryo Kase), a young couple, arrive in Tokyo to pursue their careers, moving in temporarily with Hiroko's old friend Akemi (Ayumi Ito), a career girl whose boyfriend quickly tires of the houseguests. Hiroko and Akira appear to have a solid and mutually supportive relationship that will seemingly carry them through any challenge. Akira, the young man, takes steps towards his ambition to become a filmmaker, but the woman is less sure of herself and gradually she begins to lose herself in the vast city. Ultimately she under-goes a surreal metamorphoses that gives her an unexpected sense of peace and purpose. Adapted from the comic "Cecil and Jordan in New York."
"Merde" (Dir. Leos Carax): Green Suit Guy clip
[youtube]http://www.youtube.com/watch?v=Iy3i-VlPpsw[/youtube]
Merde (a French term translating as "shit") is the name given to an unkempt, gibberish-spewing subterranean creature of the Tokyo sewers, played by Denis Lavant, who rises from the underground lair where he dwells to attack unsuspecting locals in increasingly brazen and terrifying ways: he steals cash and cigarettes from passersby, frightens old women and salaciously licks schoolgirls, resulting in a televised media frenzy that creates mounting hysteria among the Tokyo populace. After discovering an arsenal of hand grenades in his underground lair, Merde slips into full-on assault mode, hurling the munitions at random citizens and creating a Godzilla-like atmosphere of urban terror, which the media promptly laps up and reflects back to its equally voracious television audience. Enter pompous French magistrate Maître Voland (Jean-François Balmer) – a dead ringer for the sewer creature's gnarled and twisted demeanor – who arrives in Tokyo to represent Merde's inevitable televised trial, claiming to be the sole person in the world able to speak his client's unintelligible language. The media circus mounts as lawyer defends client in a surreal court of law hungry for a satisfying resolution. Merde is tried, convicted and sentenced to death – until justice takes an unexpected turn.
"Shaking Tokyo" (Dir. Bong Joon-ho): Blinding Light clip
[youtube]http://www.youtube.com/watch?v=Idu3UWglMAc[/youtube]
Teruyuki Kagawa stars as a Tokyo shut-in, or hikikimori, who has not left his apartment in a decade. His only link to the outside world is through his telephone, which he uses to command every necessity from a series of random and anonymous delivery people, including the pizza that he lives on and the hundreds of discarded pizza cartons he meticulously stacks in and around his cramped apartment. But one day is different – his pizza arrives thanks to a lovely young woman who succeeds in catching the shut-in's eye. Suddenly an earthquake strikes Tokyo, prompting the beautiful young delivery woman to faint in her client's apartment. And then the unthinkable happens – the hikikimori falls hopelessly in love. Time passes and the shut-in discovers through another pizza delivery person that the improbable object of his affections has become a hikikimori in her own right. Taking a bold leap into the unknown, our hero crosses the threshold of his apartment and takes to the streets in search of his mystery girl, at last discovering his kindred spirit at the very moment another earthquake strikes. "Tokyo!" is set to appear in  New York theaters on March 6th and will then expand to Los Angeles and nationwide on March 20th.