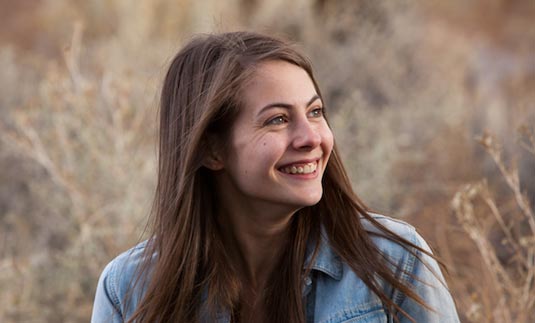 The trailer and poster for
Lawrence Blume
's
Tiger Eyes
are here. Based on the best-selling novel by
Judy Blume
, the film marks the first major motion picture adaptation from the work of iconic author, whose books have sold more than 82 million copies in 41 countries. Check out the trailer and poster after the jump. Synopsis:
Davey is a 17 year-old girl abruptly relocated by her grieving mother to  the strange "atom bomb" town of Los Alamos, New Mexico. With the sudden and violent death of her father, the displaced Davey no longer knows who to be or how to fit in. Everything that once mattered suddenly seems insignificant. But when she meets Wolf, a mysterious young Native-American, while exploring the surrounding canyons, she feels he is able to see past her pain and into her true self. The connection they make brings Davey back from the edge and sets her on a journey from heartbreak and confusion to life and love after tragedy.
Tiger Eyes will be in theaters and VOD on June 7th, 2013 and it stars
Willa Holland
,
Amy Jo Johnson
,
Cynthia Stevenson
,
Tatanka Means
,
Elise Eberle
and
Russell Means
.