Movie News
Tim Burton's PINOCCHIO Moves Forward With X-Men Writer Jane Goldman
Pinocchio
battle already started – long-cherished
Guillermo del Toro
's animated project against the
Tim Burton
-directed live action take on the story. Warner Bros. have just hired Kick-Ass and X-Men: First Class co-writer
Jane Goldman
to rewrite the script hoping to get Burton to helm and
Robert Downey Jr.
to play the woodcarver Geppetto, Pinocchio's creator/father.
Bryan Fuller
scribed the initial draft will not focus on the titular wooden doll, but instead will see the story from the eyes of Geppetto (Downey, assuming he signs on). Now Goldman is taking over writing duties in the hopes that she will convince Downey to jump aboard, but this still means the studio is no closer to getting started. Anyone Interested? Not me. Almost forgot to mention that another Pinocchio-centered projects in development at the moment is 20th Century Fox's
The Three Misfortunes of Geppetto
who has acquired
Michael Vukadinovich
's hot spec screenplay for
Shawn Levy
to direct. As for Goldman, who is widely respected in the fanboy community, her work will next been seen in X-Men: Days of Future Past, which will be in theaters July 18th, 2014.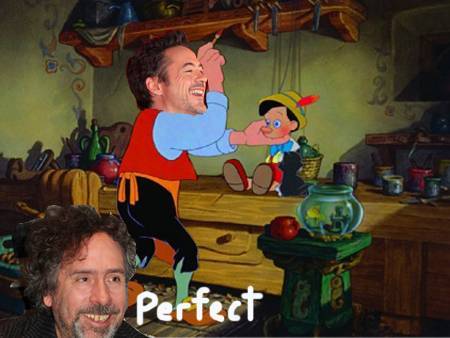 Source: THR