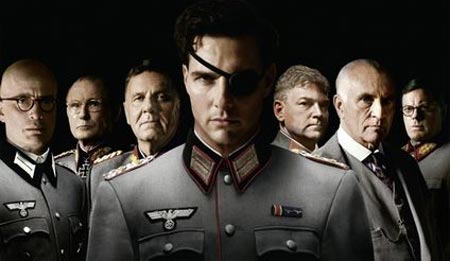 MSNBC's
The Scoop
and
New York Times
has some very unsettling reactions to a "
Valkyrie
" screening. The thriller, directed by
Bryan Singer
, sees
Tom Cruise
's Claus Von Stauffenberg attempt to assassinate Adolf Hitler in Nazi Germany during WWII. According to people from the test audience the film is far from being a thriller. But reportedly worse seems to be Tom Cruise's performance as Claus Von Stauffenberg even going as far as saying his performance elicits inappropriate laughs. MSNBC quotes various reports:
A scene where Cruise's character, Claus Von Stauffenberg, is forced to give the infamous "Heil Hitler" salute. "It's an unsettling scene but you almost start to laugh," the source says. "His character is resisting it but you never forget it's Tom Cruise saying 'Heil Hitler.' It's funny and shocking at the same time."
Another described a scene where Cruise's character removes a false eye.
"It was disgusting," said another who saw the film. "It was like watching someone pluck their contacts out. The film just isn't a thriller at all. It's a bunch of white guys in Nazi uniforms. It's too bad. And Tom doesn't speak with a German accent, though they did add a voice-over of him speaking German to the beginning of the film. Still, it's as if he could say 'I complete you' at any time. This is not his Oscar moment."
Is it possible Valkyrie is still the steaming pile we thought it once was? Will Tom Cruise have the worst movie with a coveted pre-Oscar release date? "Valkyrie" opens to theaters on December 26th.
Valkyrie poster