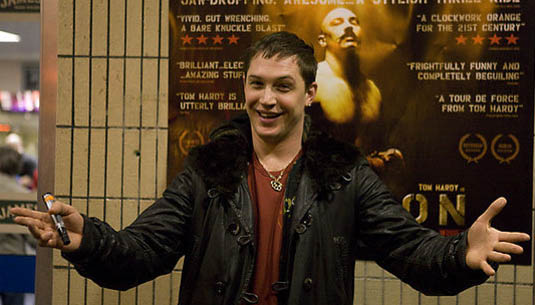 "
Bronson
," which opens UK theaters on March 13, 2009, directed by
Nicolas Winding Refn
– no stranger to the criminal milieu on the evidence of his "
Pusher
" trilogy – the film takes a sideways glance at a 'monster' whose aggressive, often counter-intuitive exploits highlight paradoxes in the penal system as well as presenting a charismatic, vicious rogue who, to this day, playfully escapes easy appraisal from behind his cell door.
Charles Bronson
(born Michael Gordon Peterson), who has spent a total of 131 days as a free man, however, has been pivotal in the script's development, and has worked closely with writers and producers to make sure that the most salient (and brutal) details of his life make it to the screen intact. At first, a request by the producers of a movie about his life to have actor
Tom Hardy
visit him in jail was initially denied. Actually, in 1999, Bronson kidnapped a teacher visiting Fulsom Prison, working with five others to hold the visitor hostage at knifepoint for nearly two days. Though the teacher was not hurt, it landed former boxer back in jail at the high-security Wakefield facility with a life sentence. He has been limited to solitary confinement since the 1999 incident, however, when Bronson threatened to sue, the ruling was reversed. Tom Hardy, who plays the criminal in crime-biopic told that he refused to judge the man he was portraying. He has admitted to growing fond of Britain's most violent prisoner Charles Bronson. "Over the past four years I was speaking to him two or three times a week," Hardy said. "I grew very fond of him actually. He's a very articulate, gentle, funny and clever man." "I had to put his past and facts behind him and my job was to study, observe and reflect a man who was in front of me. There was no judgement from me, and I wanted to get as close to his characteristics and hear as many of his stories as I could to help my performance." Hardy acknowledged that coming face-to-face with Bronson, who was jailed in 1974 for a failed armed robbery and had his sentence extended for repeated violent offences in prison, was a "very odd situation". "I obviously can't speak for any of his victims and I can only speak of my personal experiences." "The man I met wasn't a monster – massive anger problems yes, and hugely charismatic, but very insightful and interesting," Hardy added.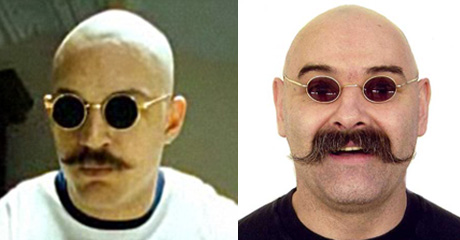 "I always like a challenge," he says. "I like character work, a transformation where you get to change everything: face, shape, accent and daily routine." From the few snaps available on the internet of the real Bronson, he looks the part.