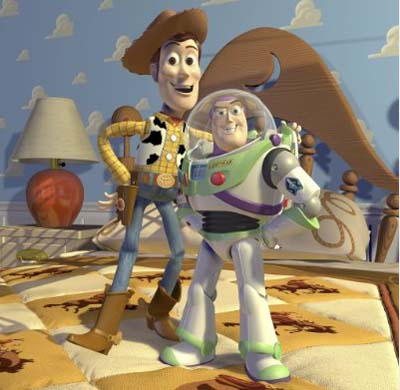 Disney converted "
Toy Story
" and "
Toy Story 2
″ to 3D. Check out great 3D Double Feature trailer and extended clip featuring Woody and Buzz Lightyear having a little fun with the different dimensions.
John Lasseter
both directed and wrote "Toy Story" (1995) and "Toy Story 2" (1999) with co-writer
Pete Docter
. Woody, a cowboy toy is profoundly threatened and jealous when a fancy spaceman toy, Buzz, supplants him as top toy in a boy's room. … When Woody is stolen by a toy collector, Buzz and his friends vow to rescue him, but Woody finds the idea of immortality in a museum tempting… "I am sure that this is going to be nothing short of fantastic and people are going to be blown away by the experience," John Lasseter said. With "
Toy Story 3
" shaping up to be another great adventure for Buzz, Woody and the gang from Andy's room, we thought it would be great to let audiences experience the first two films all over again and in a brand new way. The movies starring
Tom Hanks
(Woody),
Tim Allen
(Buzz Lightyear),
John Morris
(Andy),
Joan Cusack
(Jessie the Yodeling Cowgirl),
Kelsey Grammer
(Stinky Pete the Prospector),
Don Rickles
(Mr. Potato Head) among others will hit theaters on October 2, 2009. 'Toy Story 3' is directed by
Lee Unkrich
who was part of the original creative team. The screenplay is written by
Michael Arndt
(the Oscar winning writer of "Little Miss Sunshine"). And, of course, what Toy Story movie would be without Tom Hanks and Tim Allen. voices of Woody the Cowboy and Buzz. In "Toy Story 3," Woody, Buzz, and the rest of their toy-box friends are dumped in a day-care center after their owner, Andy,  leaves for college.