Movie News
Trailer For Rise of the Planet of the Apes and Some Concept Art Photos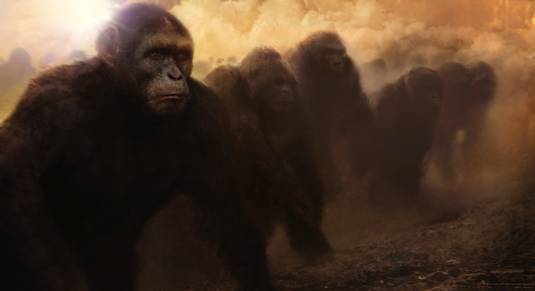 Since the Russians withdrew and the Arabs are still novices it seems that the monkeys are the only rival insane enough to challenge to race the New World. However, the monkey sci-fi series isn't what it once was, and 2001's Tim Burton's remake failed with re-launch of the franchise. But the studio has not given up on this topic, and they have gone back to the well, with the thesps such as Andy Serkis, James Franco and magic effects of WETA Digital.
Based on a Scott Frank's script Caesar, the story follows a scientist played by Franco who tries to find a cure for Alzheimer's disease so that'll create super-intelligent ape who'll take a revolution against humanity.
The movie has suffered title and release date changes, but it's finally scheduled for an August. At last we have a chance to see the first trailer for Rise of the Planet of the Apes. And we are not quite sure what to do of it.
Basically we have a spectacular impression of atmosphere, thanks to the effects achieved by WETA; chimpanzees, although appearance is not entirely natural. True, we can not ignore the skill possessed by director Rupert Wyatt, who has done an excellent job in his debut, The Escapist.
The main complaint is of not so good acting – performance seems a little pretentious. In fact, Serkis gives his typical lack of expressiveness, Franco seems to reprise his role in Spider Man 3 and Frieda Pinto's acting is mainly based on the expression and pronunciation of the text.
Launch of a chimp from the bridge to the helicopter do not even mention.
The final sequences of the movie are far from perfect. If you would like to see some concept art of the Apes rising against the men, hit the jump.
Follow us on Twitter for the latest updates! Join us on Facebook too!
[youtube]http://www.youtube.com/watch?v=AvfPlYNUWiY[/youtube]
Trailer: Planet of the Apes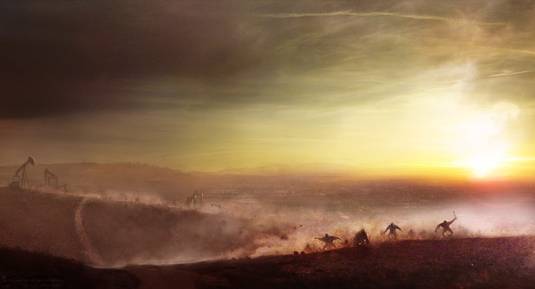 Desert Scene, Rise of the Planet of the Apes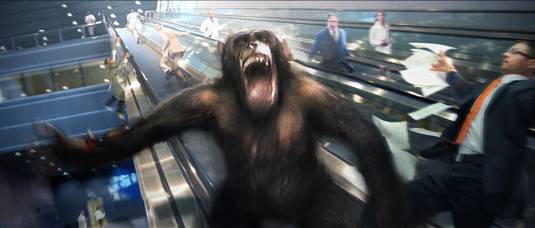 Lucky Escapes, Rise of the Planet of the Apes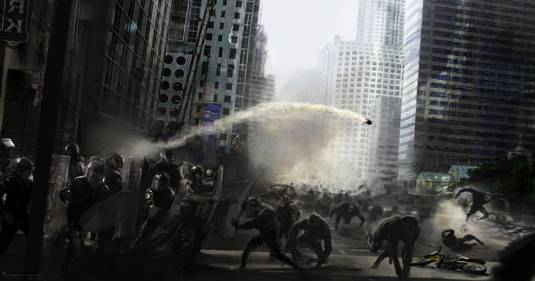 Riot Scene, Rise of the Planet of the Apes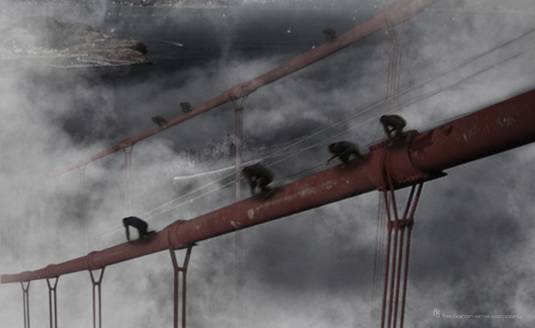 Aerial Bridge Apes, Rise of the Planet of the Apes