Thanks to the ideas and direction of Joe Kosinski Legacy wasn't just a sequel to the 1982 Jeff Bridges cult classic, but a relaunch of Tron as a key Disney franchise. If you recall, Tron: Legacy got its start as an early concept video which lucky fans were first viewers at San Diego Comic-Con three years ago. It was a boost for events that brought us where we are today. While this teaser footage goes to show some cool and exciting ideas for how to continue the franchise and link it together with the original movie, it's not officially announced that third installment will start shooting.
The first scene presents Alan Bradley/Tron (Bruce Boxleitner) and Ram (played by Dan Shor in original "Tron"). Ram has been running the Flynn Lives campaign and is destroying all files associated with it when Alan tackled him. Ram asks Alan: "Why did Kevin give you the cool name?"
The second scene highlights Quorra (Olivia Wilde) arriving at the ENCOM building on Sam's Ducati. Members of the press quickly surround her as she states that she has spoken to Kevin Flynn yesterday.
The third is a communication between Edward Dillinger (played by David Warner in original "Tron") and his son (played by Cillian Murphy in "Tron Legacy") about how everything is going as planned. No actors will be shown. This will be just text on screen.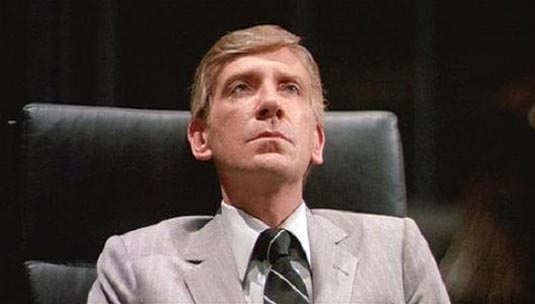 David Warner as Edward Dillinger in Tron "Tron Legacy" doubled its $170 million budget ever since. But that in and of itself doesn't mean Disney believes it's a success and enough to pursue a third installment. Share your thoughts in the comments.