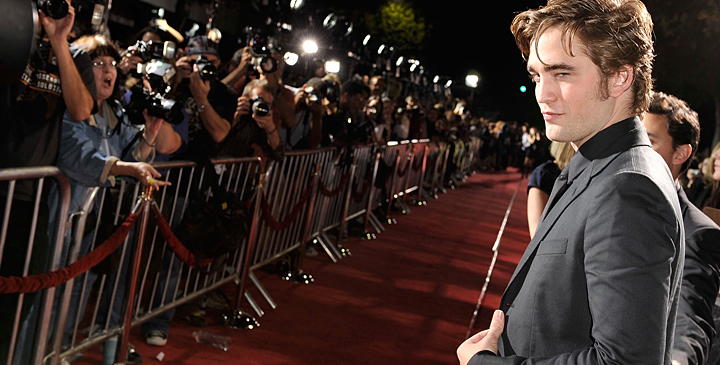 For many of "
Twilight
" fans, the long-awaited premiere of "Twilight" is the biggest event of the year, of course. With nearly 2,000 shows already sold out,
Summit Entertainment
's teen vampire romance "Twilight" is looking more like a studio blockbuster than some of the blockbusters. "Twilight" has whipped up such a frenzy among tween and teenage girls that advance ticket sales are the biggest for any film since "The Dark Knight." –
Variety
"Twilight," the big screen adaptation of
Stephenie Meyer
's novel opened this Friday. Directed by
Catherine Hardwicke
from a script by
Melissa Rosenberg
, the Summit release stars
Robert Pattinson, Kristen Stewart, Billy Burke, Peter Facinelli, Elizabeth Reaser, Cam Cigandet, Nikki Reed, Jackson Rathbone
and
Ashley Greene
. Seems most of the major outlets have published reviews, and they're quite positive, there are also lots of disappointment.
Twilight Red Carpet Photos
"A disappointingly anemic tale of forbidden love that should satiate the pre-converted but will bewilder and underwhelm viewers who haven't devoured Stephenie Meyer's bestselling juvie chick-lit franchise." (Justin Chang – Variety) full story "Twilight" already has such a buzz that you sense all we really need to do is stand back to let hordes of teenage girls rush into theaters to exalt in this romance between a human girl and a vampire boy." (Kirk Honeycutt – Hollywood Reporter) full story "Neither strong sunlight nor the sight of oozing blood will deter the romance between a teenage girl and her vampire dreamboat in Twilight. And despite questionable casting, wooden acting, laughable dialogue and truly awful makeup, nothing is likely to stop young girls from swarming to this kitschy adaptation of Stephenie Meyer's popular novel." (USA Today – Claudia Puig)
full story
"…Robert Pattinson, the young British heartthrob who plays Edward Cullen, Twilight's dreamy, sculpted hunk of a teenage vampire. With pasty skin, red lips, and those peepers that pop open wide with a touch of madness, Pattinson has a look so broodingly unearthly it's no wonder he doesn't sprout fangs. His creepy bedroom stare is a special effect all its own." (EW.com)
full story
"…If there were no vampires in "Twilight," it would be a thin-blooded teenage romance, about two good-looking kids who want each other so much because they want each other so much. Sometimes that's all it's about, isn't it? They're in love with being in love. In "Twilight," however, they have a seductive disagreement about whether he should kill her." (Roger Ebert)
full story
"…Written by Stephenie Meyer, "Twilight" is the first in a series of enormously popular vampire love stories that are now poised to spawn one of the hottest Hollywood literary franchises since "Harry Potter." (LA Times Blogs)
full story
Twilight Poster