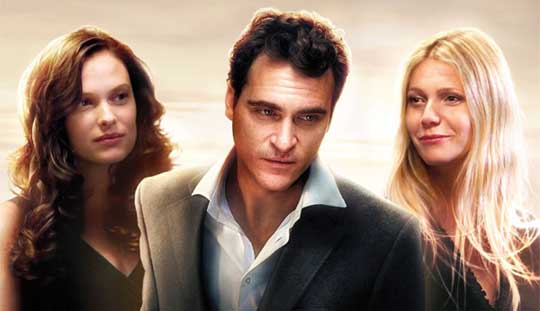 Trailer for the romance/drama "Two Lovers," premiered at Cannes Film Festival 2008, starring
Joaquin Phoenix, Gwyneth Paltrow
and
Vinessa Shaw
, has been released. Check out also the French poster for the movie.
"Two Lovers" is a romantic drama set in New York City. It tells the story of Leonard, an attractive but depressed young man who moves back in with his parents following a recent heartbreak. An aspiring photographer, Leonard works part-time at his father's dry-cleaners. His concerned parents try to set him up with Sandra, the sweet and caring daughter of a close family friend. A big family dinner serves as their introduction and Leonard arranges to see her again.
Then late one night Leonard looks out his bedroom window and notices a ravishing young woman he's never seen before. Michelle recently moved into an apartment in his family's building – an apartment paid for by the wealthy married man she's seeing.
Phoenix reunites for the third time with director
James Gray
. The two have collaborated on "
The Yards
" and "
We Own the Night
." "Two Lovers" has recently been picked up for distribution and has been scheduled to hit theaters on January 9th, 2009.