U.S. director James Gray premiered "Two Lovers" Monday night, and it's one of the most sensitive portrayals of the vagaries of love to hit the screen in recent years.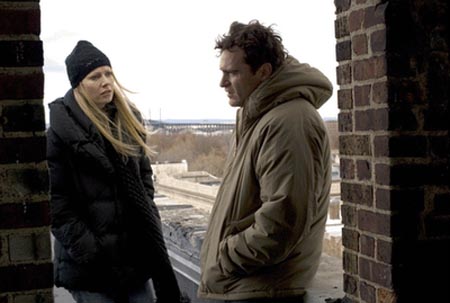 Gwyneth Paltrow portrays a confused woman who lives nearby and is involved in an affair with a married man. Vinessa Shaw stars as the daughter of family friends who is considered a nice match for him by his parents.

Much of the credit goes to Joaquin Phoenix, who stars as a depressed young man who moves back in with his parents after a failed engagement and becomes romantically involved with two women.
"An involving, ultimately touching romantic drama about a young man's struggle deciding between the two women in his life, "Two Lovers" reps a welcome change of pace for director James Gray from his run of crime mellers. Well acted by Joaquin Phoenix, Gwyneth Paltrow and Vinessa Shaw, this very New York tale is old-fashioned in good ways that have to do with solid storytelling, craftsmanship and emotional acuity. Developing an audience will be another matter altogether; its central romantic dynamic would be entirely accessible to a mass audience, but pic's smallish nature and lack of real B.O. names suggest that interest will need to be built among discerning viewers via fest exposure and critical support, leading into gradual platform release by a dedicated distrib." – Variety
"Two Lovers is the third successive James Gray feature to play in Competition at Cannes and it has become harder to discern why the selectors keep such resolute faith with this particular American auteur. Two Lovers is a maudlin, melancholic tug at the heartstrings that marks a welcome break from Gray's preoccupation with crime and corruption. It is well-crafted and ably acted but never especially moving and winds up feeling like something from the classier end of the American TV movie spectrum." – Screen Daily

"The story asks the eternal question of whether it's wiser to pursue the one you love or turn to the one who loves you. It is also a snapshot of the tribal ritual that pits the instinct for loyalty and continuity against the temptation to stride into the unknown." – Hollywood Reporter
"an attractively composed, persuasively acted but slightly too earnest and on-the-nose drama about romantic indecision. But it's not half bad – a little Marty-ish at times, maybe a bit too emphatic here and there, but nonetheless concise, reasonably well-ordered and, for the most part, emotionally restrained and therefore believable." – Jeffrey Wells