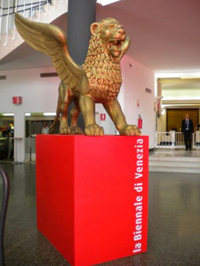 Sofia Coppola's Somewhere won Golden Lion at the Venice Film Festival 2010.
Quentin Tarantino, this year's head of the Jury said:
"This is a film that enchanted us from our first screening; yet, from that first enchanting screening it grew, and grew, and grew, in both our hearts and our analysis."
Somewhere stars Stephen Dorff, Elle Fanning, Benicio Del Toro, Michelle Monaghan, Laura Chiatti, Simona Ventura among others.
Johnny Marco (Stephen Dorff) is a bad-boy A-List actor stumbling through a life of excess while living at Hollywood's legendary Chateau Marmont Hotel. His days are a haze of drinks, girls, fast cars and fawning fans.
Johnny has lost all sense of his true self. Until, that is, his 11-year-old daughter Cleo (Elle Fanning) unexpectedly shows up and unwittingly begins to anchor him. Johnny's fragile connection to real life slowly revives in her presence…
The Silver Lion went to Spanish director Alex de la Iglesia's political tragicomedy The Last Circus (Balada triste de trompeta or A Sad Trumpet Ballad).
De la Iglesia's film, an allegory of sorts on the scars inflicted on the Spanish collective psyche by dictator Francisco Franco, also won Best Screenplay prize.
Venice's Special Jury Prize went to Polish director Jerzy Skolimowski's drama Essential Killing, which also won Best Actor for Vincent Gallo as well.
Gallo did not attend the ceremony.
"I am sure that he (Gallo) wants to thank his director, me, and his screenwriter, also me, and also his producer, me again," Skolimowski joked.
The Best Actress prize went to Greek actress Ariane Labed for Attenberg.
The Marcello Mastroianni prize for young performer went to Mila Kunis for her supporting role in Darren Aronofsky's Black Swan.
Here's the list of In Competition movies and now you can check out the list of the Venice Film Festival 2010 winners:
GOLDEN LION (Best Film)
Somewhere (Sofia Coppola, U.S.)
SILVER LION (Best Director)
Balada triste de trompeta (The Last CircusBalada triste de trompeta (Alex de la Iglesia, Spain, France)
SPECIAL JURY PRIZE
Essential Killing (Jerzy Skolimowski, Poland, Norway, Hungary, Ireland)
BEST ACTOR
Vincent Gallo, Essential Killing
BEST ACTRESS
Ariane Labed, Attenberg, Greece)
MARCELLO MASTROIANNI PRIZE FOR YOUNG PERFORMER
Mila Kunis (Black Swan, U.S.)
BEST SCREENPLAY
Alex de le Iglesia, Balada triste de trompeta (The Last Circus/Balada triste de trompeta)