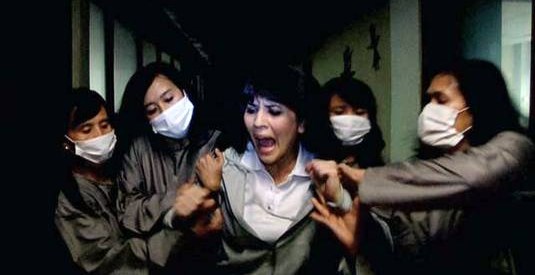 V/H/S/2 (originally titled S-VHS) guarantees a lot of blood, screams, aliens, some spooky creatures and… well, you'll just have to watch the first red-band trailer for the whole thing to see what I'm talking about. Definitely looks promising, head inside to find the video, as well as some new images and poster for the upcoming anthology horror film.
First of all, let me remind you that V/H/S/2 is the sequel to the last year's V/H/S and features a series of found-footage shorts directed by Gareth Huw Evans (The Raid), Simon Barrett (A Horrible Way To Die), Adam Wingard (You're Next), Edúardo Sanchez (Lovely Molly), Gregg Hale (The Blair Witch Project), Timo Tjahjanto (The ABCs Of Death), and Jason Eisener (Hobo With A Shotgun). [jwplayer mediaid="151527″] This follow-up ventures even further down the demented path blazed by its predecessor, discovering new and terrifying territory in the genre.
It's a modern horror at its most inventive, shrewdly subverting our expectations about viral videos in ways that are just as satisfying as they are sadistic.
The result is the rarest of all tapes—a second generation with no loss of quality.
Inside a darkened house looms a column of TVs littered with VHS tapes, a pagan shrine to forgotten analog gods. The screens crackle and pop endlessly with monochrome vistas of static—white noise permeating the brain and fogging concentration. But you must fight the urge to relax: this is no mere movie night. Those obsolete spools contain more than just magnetic tape. They are imprinted with the very soul of evil.
Starring Kelsy Abbott, Hannah Al Rashid, Fachry Albar, Oka Antara, Devon Brookshire and more, V/H/S/2 will be on iTunes/On Demand June 6th, 2013, and is set to hit theaters on July 12th, 2013.