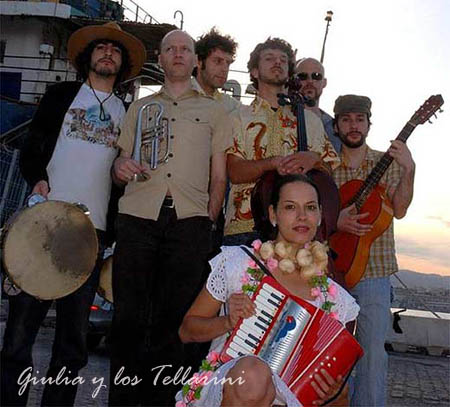 The song "
Barcelona
" by the band
Giulia y los Tellarini
, like
Woody Allen
's film, "
Vicky Cristina Barcelona
," explores chance meetings and subsequent love affairs, including one with the Spanish city itself.
"I equate Barcelona with love," says Giulia Tellarini, singer for Spanish indie band, whose song is featured in the film, which Woody Allen at the Cannes Film Festival called "perfect." "Barcelona" can be heard in the trailer for "Vicky Cristina Barcelona."
Giulia y los Tellarini's first album, "
Eusebio
," was released on iTunes in late May. Its music came to Allen's attention last year during filming, when the girlfriend of one of the band members left a CD with some of the group's songs on it at the director's Barcelona hotel, the fashionable Hotel D'Arts. "I didn't even know about it," recalls Tellarini, who was dubious when she checked the band's MySpace mail one day and found a message from someone in Allen's camp who was urgently trying to reach them. "I thought it was a joke. I didn't think that something like this could happen." "Our music is difficult to classify. It's got loads of influences," says Tellarini, noting her preference for traditional forms of popular song such as the French chanson, as well as tango, jazz and Latin boleros. "I think one of the main things about us is that we sing in different languages. We try and get inspired by the atmospheres of different countries." "Barcelona," sung in Spanish, is a seductively bouncy tune with punchy brass and dark edges intoned by Tellarini's whispery vocals. The song reflects Guilia's on-and-off relationship with the city, written at a time when she was deciding whether to stay in Barcelona with Mazzoni or return to Paris. In addition to "Barcelona," the soundtrack includes Giulia y Los Tellarinis' song "
La Ley del Retiro
." You can check their blog with songs
HERE
"We hope that people will appreciate the music, not just the buzz it's getting because it's part of the film," Tellerani says. "Vicky Cristina Barcelona" will be released September 5 and stars
Scarlett Johansson, Penelope Cruz, Rebecca Hall and Javier Bardem.