Interview
Video and Screencaps From the Set Visit of The Tomb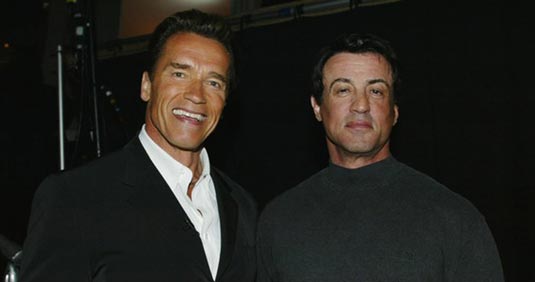 Well well, after thirty years of competition between two greatest Hollywood muscle-packed bad-asses,
Arnold Schwarzenegger
and
Sylvester Stallone
, now you practically can't see one without another in them action movies. After testosteron-packed The Expendables and its sequel being released this summer, they are working on another genre movie together –
The Tomb
. Hit the jump for more.During a recent interview with ET on the Tomb set, Stallone spoke out about his desire to keep Hollywood's old-school approach to action filmmaking alive: "This genre unfortunately is becoming… let's just say it's fading away. You have the superheroes today which are possessed with all extraordinary powers; they can blink and a fireball comes out of there. It's great. And then you have a bunch of us which is just your basic male-pattern badness. … Kind of like hands-on action."
As to question about why it's taken more than three decades for Sly and Arnie to join forces onscreen, Sly said: "I think in the beginning we were competitive — there's no question about it. A little alpha territorial. And then we realized it was good for our careers [to work together]."
Schwarzenegger agreed as much, during his own interview with ET: "The funny thing is we have tried, I think, our entire careers to always work together. We have talked about it for three decades and it never happened. I think we tried maybe too hard. … But now after the governorship, somehow this just fell into place."
Official synopsis: "After being framed by persons unknown, all of Breslin's ingenuity and expertise are about to be put to work in the most challenging test he's ever faced: escaping from a high-tech prison facility that's design is based on his own protocols. Arnold Schwarzenegger plays Emil Rottmayer, a complex inmate with multiple shades of gray."
Here's the entire interview given to ET: [youtube]http://www.youtube.com/watch?v=G0VTez0iF7g[/youtube] Directed by
Mikael Håfström
and written by
Miles Chapman
and
Jason Keller
, The Tomb is slated for a 2013 release. Keep checking us out for updates.