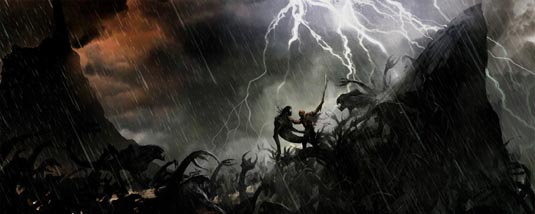 Vin Diesel definitely loves Facebook. And that's why we all love Diesel, I guess. It's not just about the muscles, sometimes it's all about chat as well!
So, you saw our title, and you all know why we're here today, then what can I tell you – let's get straight to the point with this one – we have another piece of concept art from Riddick!
Let me ask you right here at the beginning – what do you think? If I wasn't in a romantic lesbian mood these days, I would definitely set this to be on my desktop. But I'm quite satisfied with my naked Scarlet Johansson pic…so, sorry Riddick, you will have to wait.
I do admit that we're talking about some seriously good futuristic world in here, but please, do not make me change my mind. At least, not today. Just enjoy the art!
Here's the synopsis for the upcoming David Twohy's Riddick 3 that we have at this moment:
"Betrayed by his own kind and left for dead on a desolate planet, Riddick (Diesel) fights for survival against alien predators and becomes more powerful and dangerous than ever before. Soon bounty hunters from throughout the galaxy descend on Riddick only to find themselves pawns in his greater scheme for revenge.
With his enemies right where he wants them, Riddick unleashes a vicious attack of vengeance before returning to his home planet of Furya to save it from destruction."
So, any thoughts?
Riddick 3 Concept Art