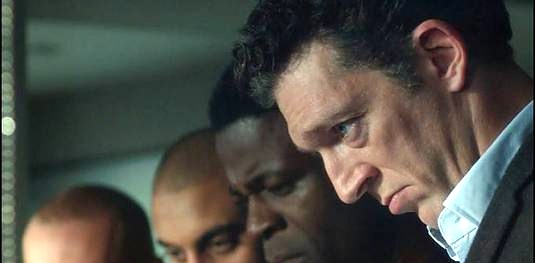 I can't remember, I can't remember – says James McAvoy, and you already know we're here to talk about his upcoming Trance movie! To be honest, it's not all about McAvoy, this action thriller also stars great Vincent Cassel and Rosario Dawson, but it definitely looks that Simon is the guy who has the most difficult job (he's dealing with some dangerous criminals in here, remember?) [jwplayer mediaid="142368″] Anyway, today we're here to share two brand new TV spots for the movie which comes from director Danny Boyle, and revolves around a fine art auctioneer mixed up with a criminal gang who joins forces with a hypnotherapist to recover a lost painting. [jwplayer mediaid="142369″] Boyle directed the movie from a script written by John Hodge, and in case you're interested in more details about this story, check out the official synopsis once again:
Fine art auctioneer Simon, in league with a gang led by underworld boss Franck, plots the audacious theft of a masterpiece by Goya from a major public auction. When Simon double-crosses the gang during the robbery, Franck retaliates violently and knocks him unconscious. In the aftermath of the heist, Simon sticks stubbornly – and perhaps shrewdly – to his claim that the violent trauma has left him with no memory of where he stashed the artwork. Unable to coerce the painting's location from Simon, Franck and his associates reluctantly join forces with a charismatic hypnotherapist in a bid to get him to talk. But as they journey deeper into Simon's jumbled psyche the boundaries between reality and hypnotic suggestion begin to blur and the stakes rise faster and far more dangerously than any of the players could have anticipated.
Starring James McAvoy as Simon, Vincent Cassel as Franck and Rosario Dawson as Simon's hypnotherapist Elizabeth, Trance is set to open on April 5th, 2013.