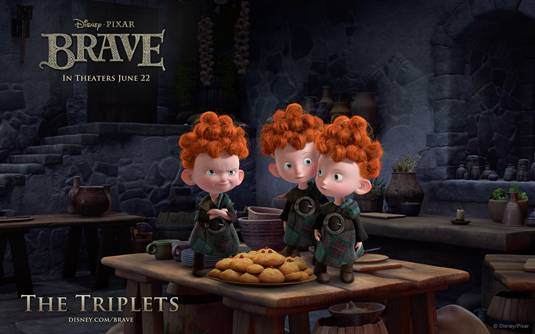 Oh yeah, thumbs up for another clip from Pixar's latest feature,
Brenda Chapman
and
Mark Andrews
' animated comedy-adventure 
Brave
! This is the studio's first fairytale, set in the Scottish Highlands of course. A new clip titled 'Eyes on the Pies,' focuses on a fiesty, red-haired princess named Merida and her three troublemaker brothers; features the film's heroine teaching her siblings the fine art of archery, but their minds are on something else… The film is scheduled to open nationwide in 3D and 2D theaters on June 22nd and look for the final full trailer set to arrive online tomorrow. A grand adventure full of heart is voiced by
Kelly Macdonald, Emma Thompson, Billy Connolly, Julie Walters, Kevin McKidd, Craig Ferguson
and
Robbie Coltrane
. Watch the clip below: [youtube]http://www.youtube.com/watch?v=kHI8NEGL8iQ[/youtube] Official synopsis:
Set in the rugged and mysterious Highlands of Scotland, Disney•Pixar's "Brave" follows the heroic journey of Merida (voice of Kelly Macdonald), a skilled archer and headstrong daughter of King Fergus (voice of Billy Connolly) andQueen Elinor (voice of Emma Thompson). Determined to change her fate, Merida defies an age-old custom sacred to the unruly and uproarious lords of the land: massive Lord MacGuffin (voice of Kevin McKidd), surly Lord Macintosh (voice of Craig Ferguson) and cantankerous Lord Dingwall (voice of Robbie Coltrane), unleashing chaos in the kingdom. When she turns to an eccentric Witch (voice of Julie Walters), she is granted an ill-fated wish and the ensuing peril forces Merida to harness all of her resources—including her mischievous triplet brothers—to undo a beastly curse and discover the meaning of true bravery. Directed by Mark Andrews and Brenda Chapman, and produced by Katherine Sarafian, "Brave" is a grand adventure full of heart, memorable characters and signature Pixar humor. Opens on June 22, 2012, in Disney Digital 3D™ in select theaters.