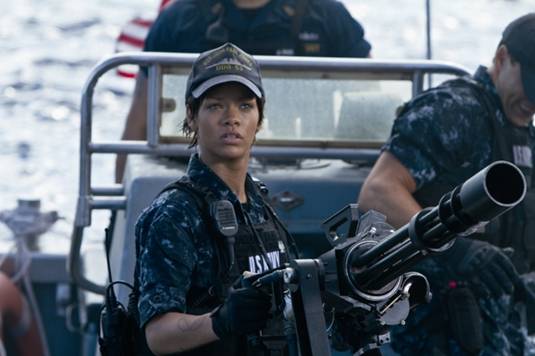 Rihanna
could become a huge movie star if she wants. Whatever you think, May 18th, 2012 marks the theatrical release of
Battleship
, Rihanna's debut movie starring as Petty Officer Cora Aikes. The third trailer for the sci-fi action adventure inspired by Hasbro's popular game Battleship, has arrived. Latest clip highlights the massive amount of explosions that graces the silver screen. However,
Taylor Kitsch
leads the cast as Alex Hopper, with
Brooklyn Decker
starring as his love interest Samantha and
Liam Neeson
as Admiral Shane. An epic-scaled action-adventure is written by
Jon Hoeber
and
Erich Hoeber
and directed by
Peter Berg
. Battleship is just around the corner, so watch the latest movie trailer.