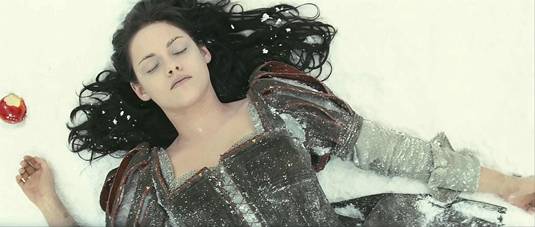 Another one minute TV Spot, which aired during AMC's 'Mad Men' Season 5, this time features Charlize Theron as the Evil Queen Ravenna who's commanding her minions to hunt down Snow White portrayed by Kristen Stewart.
Yes you guessed it, Universal Pictures has released a spot for the upcoming film Snow White and the Huntsman, also starring Chris Hemsworth, Sam Claflin, Ray Winstone, Ian McShane, Eddie Izzard, Bob Hoskins, and Toby Jones.
The epic action-adventure film is due out in theaters on June 1st, 2012.
If you check out the video clip below you'll get an extended glimpse into the dangerous, yet awesome looking characters Stewart and Hemsworth are going to encounter on their journey in the new footage.
'I feel that you and I are bound,' Queen Ravenna tells the young Snow White in the opening of the brand new TV spot, but you will have to see the film to completely get the gist of the binding.
[youtube]http://www.youtube.com/watch?v=87qLsQ8kDg0[/youtube]