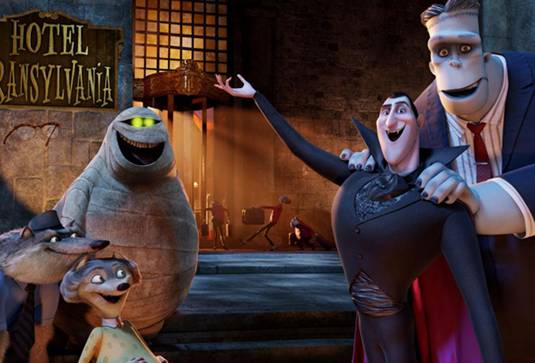 Sony has released an international trailer for their new 3D horror-themed family comedy Hotel Transylvania with Adam Sandler to voice the lead role of Dracula.
Hotel Transylvania is Dracula's extravagant five-star resort, whom he operates away from the human world, and goes into overprotective mode when a boy named Jonathan discovers the resort and falls for the count's teen-aged daughter.
In fact, Dracula celebrates his daughter Mavis's 118th birthday, and invited some of the world's most famous monsters, such as Frankenstein and his bride, the Mummy, a family of werewolves, the Invisible Man and many more. But, as we noted, things do not go according to plan.
Directed by Genndy Tartakovsky (TV's Samurai Jack), the animated comedy is also voiced by Andy Samburg as Jonathan, Selena Gomez as Mavis, Kevin James as Frankenstein, David Spade as The Invisible Man, Cee-Lo Green as Murray The Mummy, David Spade plays Quasimodo, while Steve Buscemi and Molly Shannon play Wayne and Wanda, a pair of married werewolves, parents to an ever-increasing litter of pups.
Hotel Transylvania will be released in 3D on September 28th, 2012.
Check it out in the player below!
[youtube]http://www.youtube.com/watch?v=FYgzizpCTKU[/youtube]