Here's an interesting psycho-drama. Husband and wife who keep their children imprisoned within their house and pretend that this is normal – mark that as a big 'D' for drama, or simply –
Dogtooth
!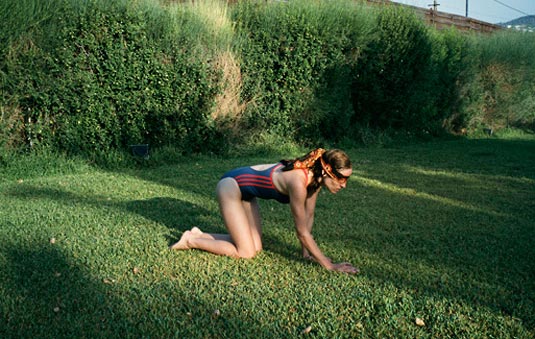 Dogtooth (2009) is the second feature film of Greek director
Yorgos Lanthimos
, and one of the movies that will
probably
compete for the
Best Foreign Language Film Oscar
! The movie is on the
nine movie shortlis
t for Best Foreign Language Film, but only five Oscar nominated will be announced on Tuesday, January 25, 2011. To Lanthimos, that was just one of the film's challenges: "The film is on a very fine line between humor and tragedy. The story's about a very serious issue, but we deal with it also with humor, and there are many funny scenes. To me, it was important that the violence make the point. It was like punctuation for me, contradicting the ridiculousness and the awkwardness and the humor in the situations and still reminding that this is a serious thing," he said. "The great response has been quite extreme, and to the negative side as well. It's a film that can be disturbing to some people, and sometimes you get that as well. But I guess that's the best thing to have for a film: to have extreme reactions in both directions and not a mediocre kind of response. This is not, I suggest, a film after which people walk out, shrug and say, 'Well, who wants coffee?' That's the nightmare!"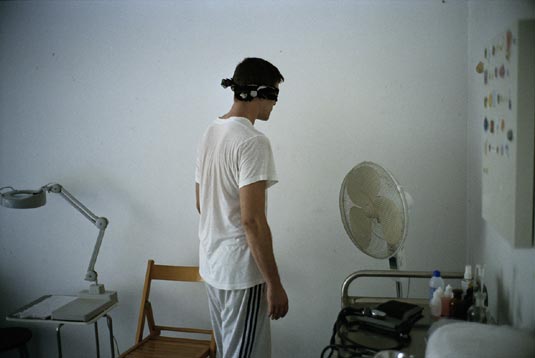 We made a movie about a family raising their children this way, these parents being the way they were. We did realize, making the film, that this could become a film that could be interpreted in many different ways. In a political way, about totalitarian states, about countries and societies, about the information they get – maybe from media, maybe from their leaders – and many different things.
And travelling with the film, I learned there are many more interpretations; it's not like they're different, but [rather] slight deviations of the way that the people perceive the film according to their own experiences. In America, Americans ask about home schooling." So check out the
Dogtooth
full synopsis
: "Three young people exist in a strange world of their parents' devising in this bizarre drama. A father and mother live in a large house on the outskirts of town with their three children, whose ages range from mid-teens to early twenties. The children have never been allowed to leave the house, surrounded by a tall fence, and their knowledge of the outside world has been strictly controlled by their parents, who have chosen to teach them only what they believe is important and have deliberately confused or misled them in many other areas. The parents quite literally treat their children like animals, and the only contact the youngsters have with people outside their family is Christina, a woman who works with the father's business and comes by periodically to have sex with the eldest son. Christina makes the mistake of bringing a present for the two younger daughters, and explains the custom is that they should give her something in return. This simple act sets off a chain reaction of events that has terrible consequences for everyone involved."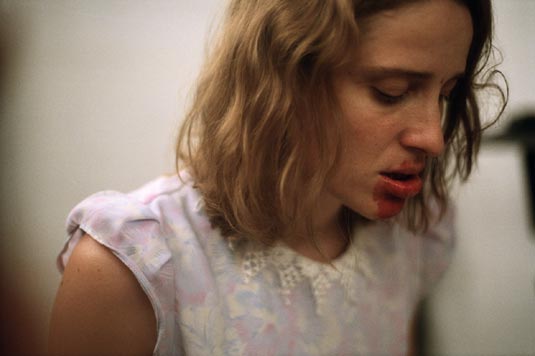 Dogtooth stars
Christos Stergioglou
as father,
Michelle Valley
as mother,
Aggeliki Papoulia
as older daughter,
Mary Tsoni
as younger daughter,
Christos Passalis
as son, and
Anna Kalaitzidou
as Christina. No doubts that this project, which is one of those movies that are easy to miss but impossible to forget, definitely deserved
Prix Un Certain Regard
at
Cannes Film Festival
as well as
Dublin Film Critics Award
at
Dublin International Film Festival
or
Bronze Horse
at
Stockholm International Film Festival
. We wish them good luck at Oscar too! [youtube]http://www.youtube.com/watch?v=QFtDzK64-pk[/youtube]
Dogtooth Trailer
[youtube]http://www.youtube.com/watch?v=KLOy4_tzXHY&feature[/youtube]
Dogtooth Clip