Movie News
Will Ferrell's CASA DE MI PADRE Release Date, Trailer and Poster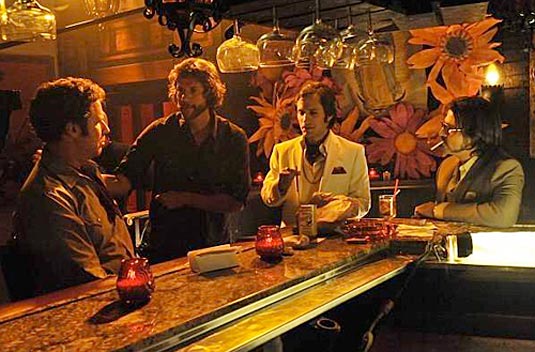 Pantelion Films announced today that it has acquired the U.S. rights to the highly-anticipated NALA Films and Gary Sanchez Productions produced comedy Casa De Mi Padre, directed by Matt Piedmont and starring Will Ferrell. Pantelion Films plans to release Casa De Mi Padre, which was fully-financed by NALA Films, stateside on March 16, 2012. The Spanish-language film, which pays homage to classic westerns and telenovelas, will be Pantelion Film's widest release to date. The domestic deal was announced today by Paul Presburger, CEO of Pantelion Films. Along with Ferrell, the film also features Gael Garcia Bernal (THE MOTORCYCLE DIARIES), Diego Luna (Y TU MAMÁ TAMBIÉN), Genesis Rodriguez (MAN ON A LEDGE), Efren Ramirez (NAPOLEON DYNAMITE ), Adrian Martinez (KICK-ASS), Pedro Armendáriz Jr. (THE MASK OF ZORRO ) and Nick Offerman (PARKS & RECREATION). Armando Alvarez (Will Ferrell) has lived and worked on his father's ranch in Mexico his entire life. As the ranch encounters financial difficulties, Armando's younger brother Raul (Diego Luna) shows up with his new fiancée, Sonia (Genesis Rodriguez). It seems that Raul's success as an international businessman means the ranch's troubles are over as he pledges to settle all debts his father has incurred. But when Armando falls for Sonia, and Raul's business dealings turn out to be less than legit, all hell breaks loose as they find themselves in a war with Mexico's most feared drug lord, the mighty Onza (Gael Garcia Bernal). CASA DE MI PADRE's title track is an original song written by Andrew Steele and Patrick Perez, and performed by four-time GRAMMY® Award winner Christina Aguilera.
"Will, Andrew and I are excited to have Pantelion distribute the movie — especially since our collective knowledge of the Spanish language amounts to what we learned during a half-hour Learning Annex class taken the night before production of the film began. We loved collaborating with NALA to make this movie and now can't wait to have it released. Pantelion and NALA are the perfect team to get it out there."
said director Matt Piedmont.
"We cannot imagine a better vehicle than CASA DE MI PADRE to demonstrate how a Spanish language film can appeal to a broad main stream audience. We are enthusiastic about joining forces with NALA Films on this project and feel that Will, Matt and Andrew have proven that if it's funny, we all laugh in the same language."
said Pantelion Films CEO, Paul Presburger.
"We are thrilled about partnering with Pantelion to bring CASA DE MI PADRE to all audiences. Comedy has no barriers, and that can be seen in the terrific performances and work delivered by this international cast and creative team."
said NALA Films President and COO Darlene Caamano Loquet. Ferrell will next be seen in the Funny or Die-produced "Tim and Eric's Billion Dollar Movie", which is scheduled to come out sometime in 2012. Casa De Mi Padre Trailer: [jwplayer mediaid="76249″]