Movie News
Will STAR TREK INTO DARKNESS be the Last Time we See Zachary Quinto as Spock?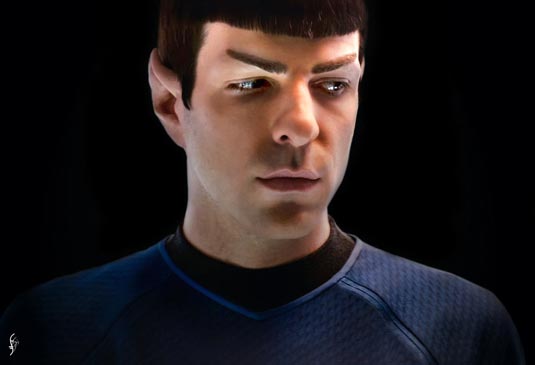 Speaking with EW, actor
Zachary Quinto
talked about his career and some of his more recognizable roles. He has previously played one of the creepiest serial killers, Sylar, on NBC's Heroes, and is currently playing another serial killer, Bloody Face, on FX's American Horror Story. After thus being associated with a certain type of role, Quinto now says that he wants his career to "go in a different direction" after next summer's
Star Trek Into Darkness
, in which he reprises his role as Spock from
J.J. Abrams
' 2009 reboot – or so the rumors said. In the following quote, Quinto also suggests that he may not play Spock in future movies after Star Trek Into Darkness. "It's like an era of association with certain roles – a specific part like Spock, or a kind of part, like Sylar — is coming to an end," he says. While Quinto isn't exactly saying that he won't play Spock anymore, his comment on his association with a specific part like the Vulcan "coming to an end" is rather intriguing, especially since he's signed on to reprise the role again for another movie. In fact, it would be surprising that we won't see Quinto's Spock again for at least one more film (unless he dies in Star Trek Into Darkness). A bit later on, Quinto has taken to his Twitter account to address this report. Apparently, his quote about no longer being associated with specific parts was taken out of context.
simmer down kids. rumors are rumors for a reason. quotes out of context. let's let the second movie come out before we talk about a third… — Zachary Quinto (@ZacharyQuinto) November 19, 2012
A third Star Trek movie from J.J. Abrams has yet to be officially confirmed, although writer/producer Damon Lindelof has previously stated that a third film was being discussed. In addition, all of the main cast members from the first movie were signed on for two sequels as of June 2008. Star Trek Into Darkness also stars
Chris Pine
,
Benedict Cumberbatch
,
Zoe Saldana
,
Karl Urban
,
Simon Pegg
and
Alice Eve
. The film is set to hit the theaters on May 15th, 2013.