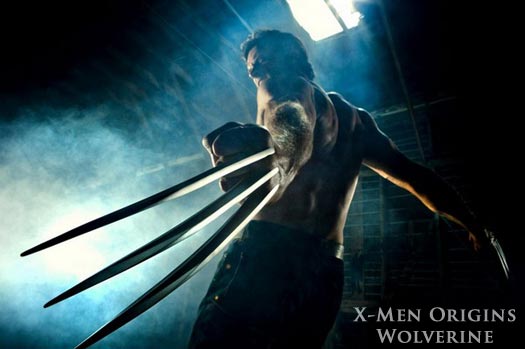 At
San Diego Comic Con
,
20th Century Fox
tried to act like it was a big surprise, but they did the right thing and brought in
Hugh Jackman
who jumps on stage and begins to introduce footage from "
X-Men Origins: Wolverine
." The footage starts with Jackman and
Liev Schreiber
in a military jail being recruited by Danny Huston's Stryker. Then lots of Jackman being turned into the Wolverine and getting pissed off and going after Stryker's men and ultimately Shreiber's Sabertooth. Other characters shown including Gambit, The Blob, Wraith, and Deadpool. It's hard to get a read on how good the movie will be with the fast edits, but it has lots of action, fights, cool stunts, and all those other things you expect from an X-Men movie not directed by Brett Ratner. Directed by
Gavin Hood
from a
David Benioff
, the action-thriller co-stars Liev Schreiber,
Ryan Reynolds, Taylor Kitsch, William, Danny Huston, Dominic Monaghan, Daniel Henney
and
Lynn Collins
. Leading up to the events of "X-Men," the new spin-off movie tells the story of Wolverine's epically violent and romantic past, his complex relationship with Victor Creed, and the ominous Weapon X program. Along the way, Wolverine encounters many mutants, both familiar and new, including surprise appearances by several legends of the X-Men universe. "X-Men Origins: Wolverine" is scheduled to hit theaters on May 1st, 2009.
Part I
Part II