Movie Photos
X-Men Origins: Wolverine Promo Photo, Hugh Jackman Explains The Re-Shoot
Hugh Jackman
has sent
AICN
a note about the additional filming taking place in Vancouver right now for "
X-Men Origins: Wolverine
."
I wanted to reach out and let you know that due to scheduling conflicts with certain cast members and location/weather considerations, we had to wait until now to shoot a couple of scenes. Please rest assured that WOLVERINE will be badass and hopefully meet all of your expectations. I am stoked by the positive response to the teaser, which clearly reflects the tone and scope of the film. If you like that, we've got much more in store! In the meantime, here's an exclusive shot of some characters you may recognize… Cheers, Hugh
He also sent along a new cast photo, which you can check out below (from left to right)
Ryan Reynolds, Taylor Kitsch, Hugh Jackman, Liev Schreiber
and
Lynn Collins
.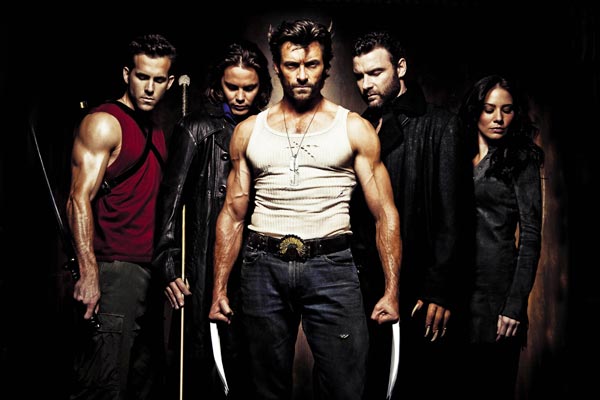 A prequel to the "X-Men" trilogy, "X-Men Origins: Wolverine" focuses on chronicling the violent and romantic early life of the titular character, including his participation on the Weapon X program and his complex relationship with Victor Creed.
Wolverine is directed by
Gavin Hood
(Tsotsi, Rendition), stars Hugh Jackman as Wolverine, Liev Schreiber as Sabretooth, Ryan Reynolds as Deadpool, Danny Huston as William Stryker, Dominic Monaghan as Beak, Lynn Collins as Silver Fox and Taylor Kitsch as Gambit. "X-Men Origins: Wolverine" is scheduled to hit theaters on May 1st, 2009.