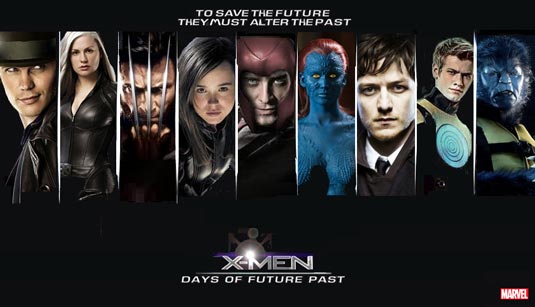 Bryan Singer keeps delivering a behind the scenes look at the set of the prequel sequel X-Men: Days of Future Past. This time he has shared a more complex picture than it first appears.
Singer tweeted first look at returning actor Nicholas Hoult as the 1970s Beast alongside Hugh Jackman as Wolverine.
In other words, the two mutants donning their 1970′s wardrobe while in the underground hallways at Professor Xavier's School for the Gifted.
I think this picture backs up rumors that the Wolverine of the present or even the future has gone back in time to 1973 to prevent something terrible from happening.
The other question here is why Nicholas Hoult's Beast isn't in his blue furry form?
Penned by Matthew Vaughn and Simon Kinberg, the prequel sequel features cast members from the original X-Men franchise including Jackman, Patrick Stewart, Ian McKellen, Halle Berry, Anna Paquin, Ellen Page, Shawn Ashmore and Daniel Cudmore along with X-Men: First Class cast members like James McAvoy, Jennifer Lawrence, Hoult, and Michael Fassbender. There are also new additions like Omar Sy, Peter Dinklage, Fan Bingbing and Boo Boo Stewart.
X-Men: Days of Future Past hits theaters on July 18th, 2014.
Here's the pic from the director's Twitter: