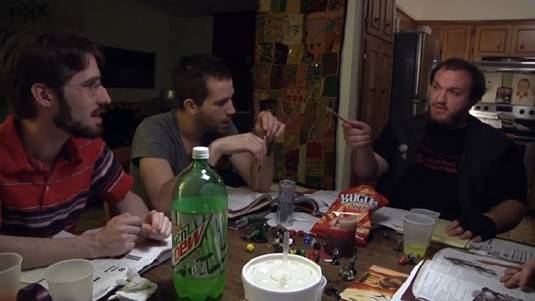 Produced by Michael and Lindsay Stephenson, the filmmakers behind the hit documentary Best Worst Movie, Zero Charisma is the indie comedy from directors Katie Graham and Andrew Matthews, the pair of filmmakers which also served on previous project.
The narrative feature that got attention and funds through a hilarious three-minute teaser released last spring will begin filming next week around Austin, Texas.
Sam Eidson (Natural Selection) has been cast as Scott Weidemeier, an uber nerd who cares for his nasty grandmother and works at a donut shop and who struggles to defend his tabletop turf and fellow role-players from an interloping neo-nerd hipster. Dakin Matthews (True Grit, Desperate Housewives), Anne Gee Byrd (ER, Everybody Loves Raymond, Monk) and Cyndi Williams (Temple Grandin, Room) have also been cast in the film.
New comedy follows the bizarre history of table-top gaming in the same vain as 2009 Best Worst Movie followed the bizarre history of cult horror film Troll 2.
Directors Graham and Matthews said about the trailer as an early indication of the final film:
The trailer is pure proof-of-concept. None of that footage will appear in the film, though many of the actors, locations, costumes, etc. will. Our shoot for the trailer was very guerilla, making the best with what we could get our hands on in a very short time. The film will have a higher production value, better equipment, more detailed art direction, and more rehearsal. However, the trailer did an excellent job of communicating the level of energy, pacing and feeling of spontaneity that we want the finished film to have.
Watch this trailer which Magic Stone Productions has released for Zero Charisma.
[youtube]http://www.youtube.com/watch?v=D9nQb72sBvk[/youtube]