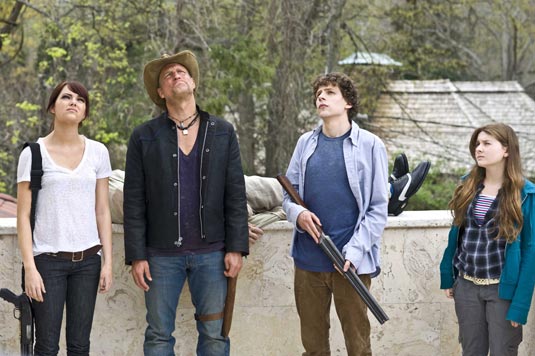 Ruben Fleischer's Zombieland was one of the freshest horror comedies of the past decade, and I must admit that, in spite of being bored to death with the overabundance of zombie-themed films – so bored that I don't have the desire to see the movie with the slightest hint of the subject; also the reason why I saw Shaun of the Dead just two weeks ago – I really liked this one (I made myself watch it merely because it stars one of the guys I like to see in the movies). There were reports in late 2011 that it was going to become a TV show for CBS. I'm not sure if that's instead of the announced sequel, or in addition to it. It looks like the Zombieland TV show is actually a real deal, because casting calls went out a few days ago for the show's main characters. Now, if you want to read on, be warned that there will be spoilers.
The site io9.com claims that they got their hands on the pilot's casting script pages for the four major characters and their backstory. Here's how the characters will be portrayed by new cast, since Emma Stone, Woody Harrelson, Jesse Eisenberg and Abigail Breslin won't be reprising their roles (sob!):
Tallahassee is still kind of a snarky weirdo, but he seems to have a much less spiky relationship with Columbus. He and Columbus have a pretty amusing thing where they riff on the fact that Steven Seagal movies always have three-word titles like "Marked for Justice" or "May Cause Diarrhea." But Tallahassee also dispenses homespun wisdom about how to feel happy with your life. He also tells a weird story about being in a trailer park with a perpetually nude Matthew McConaughey. He also has a somewhat heartwarming scene where he tells Columbus that he's been wandering aimlessly for a long time, but maybe he's been put here for a reason – to help Columbus and the others. Columbus is much the same, except that he tracks down his grandma and grandpa (Bubbie and Peepaw) only to find them recently zombiefied. Also, Columbus is trying to deal with his newfound relationship with Wichita, after their first kiss. He has started calling her "Krista," her real name — but there are some problems, especially after she finds him reading a book about fatherhood. He tries to organize a romantic scavenger hunt for her in the IKEA they're camping out in, but it goes kind of horribly. Wichita is still trying to look after Little Rock, trying to teach her math with problems about someone stealing from a liquor store and jumping on a train going 42 miles per hour, with a cop chasing in a car going 88 miles per hour. We also learn a lot more about Wichita's backstory, including how she ran away from her father after he had her stealing people's Christmas presents — and later, she found out she had a sister who was also being a grifter with her dad. Little Rock seems actually kind of excited about meeting Columbus' grandparents, before they turn out to be zombies. And she shares some of her own backstory, about how her dad parked her at a school while he went off grifting on his own — and then yanked her out of school right before a dance that she was looking forward to. Fred and Ainsley are two office workers at the start of the zombie apocalypse, obliviously complaining about problems with their iPhones and getting the wrong order at Starbucks, which they admit are "first world problems" with a hashtag — while people are being disembowled just outside the window they're not facing. Tallahassee shows up to bring them their lunch orders, wearing a green polo shirt.
There are a handful of supporting character roles being planned, but the gist is that CBS' Zombieland TV show will revolve around the bond and family dynamic formed between Tallahassee, Columbus, Wichita/Krista and Little Rock by the conclusion of Fleischer's movie. CBS ordered, then rejected their initial pilot script based on the concept, back in 2005. Of course, since the duo turned around and transformed the project into a movie – one that grossed $102 million in theaters worldwide (on a $24 million budget) and has since gained cult status – network heads have good reason (and would be wise) to consider giving their idea another shot, so stay tuned for updates!