Calin Peter Netzer's psychological drama Child's Pose won the Golden Bear at the 63rd Berlin International Film Festival, and we're here to congratulate Netzer and his team!
Straight from Romania comes this pretty intense story of "quasi-pathological relationship" of a wealthy mother who uses her connections to try and stop her son from going to jail. Head inside to find the trailer and more details about the movie!
Calin Peter Netzer directed the movie from a script he co-wrote with Razvan Radulescu, which is actually a tale of corruption and guilt in modern Romania. Luminita Gheorghiu stars as the above mentioned mother – rich and controlling woman named Cornelia Kerenes who gives false statements to save her son from jail after he accidentally runs down and kills a boy.
Or, as director Netzer explained:
"Between the mother and son, there is a quasi-pathological relationship. We chose the upper middle class because we thought it would be much less likely to find this kind of behaviour in the lower social classes." He also added: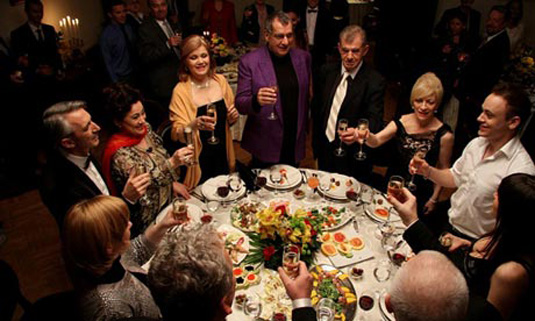 "In my experience, but it parents' possessiveness towards their children is very strong in European countries of the old Eastern bloc. You probably come across this phenomenon more in Romania than in Germany, for example, where I lived for almost 12 years and where children's education is very different."
Here's the official synopsis:
One cold evening in March, Barbu is tearing down the streets 50 kilometres per hour over the speed limit when he knocks down a child. The boy dies shortly after the accident. A prison sentence of between three and fifteen years awaits. High time for his mother, Cornelia, to intervene.
A trained architect and member of Romania's upper class, who graces her bookshelves with unread Herta Müller novels and is fond of flashing her purse full of credit cards, she commences her campaign to save her lethargic, languishing son. Bribes, she hopes, will persuade the witnesses to give false statements. Even the parents of the dead child might be appeased by some cash.
Beside Gheorghiu, Child's Pose also stars Bogdan Dumitrache as her son Barbu, Vlad Ivanov and Florin Zamfirescu.
Let us know what you think about this story!
[youtube]http://www.youtube.com/watch?v=ZtoCo9pJ2yU[/youtube]