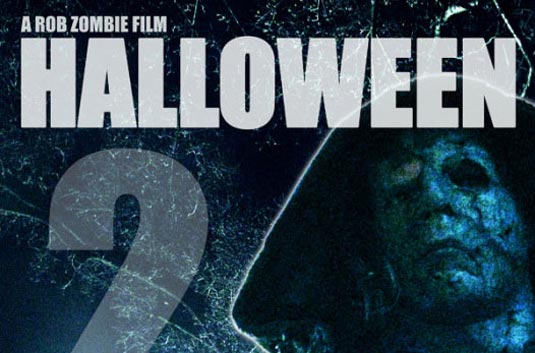 Rob Zombie has revealed a new poster for "Halloween 2" (AKA "H2"), courtesy of his MySpace Blog. The poster in a blue shade gives a more up-close shot of Michael Myers, the villain who is made more human-like than other "Halloween" series.
Earlier this week, Zombie sat down with Ryan Rotten, of STYD, to talk the sequel. When asked about his previous project Tyrannosaurus Rex being shifted to the side in favor of H2, the director was surprisingly honest about the current mindset within studio circles.
"I would love to make that movie next – it may be, it may not be. I don't know yet," he said on break from editing his latest outing with Michael Myers. "It's sort of hanging out there. It seems like, every year, it gets harder and harder to get a movie made. Even if you're following up a hit, the studios – I don't know if it's the economy – but trying to get them to greenlight and loosen up the money is a f**kin' nightmare.
He also sat down with Uncle Creepy over at Dread Central to talk his vision of Michael Myers differing from Carpenter's original films.
"My Michael Myers is a totally different Michael Myers, so the rules of what has come before don't really apply to what I am trying to do with him." Zombie continues. "I love the fact that he's big, and physical, and brutal. He's like a bull in a china shop. He's totally calm until that moment that his brain snaps and he's just beyond vicious. He's much more brutal this time around. Michael's insane. I've always played him as if he is completely insane. He lives in a different reality than the rest of the world does. What he sees and hears and does has no basis in normalcy. In this movie I just wanted to mess a bit with the way that he perceives the world. What he sees has no reality to it."
The film will pick up at the exact moment the first movie stopped and follow the aftermath of Michael Myers murderous rampage through the eyes of heroine Laurie Strode.
"Halloween 2" is scheduled to hit theaters on August 28th.