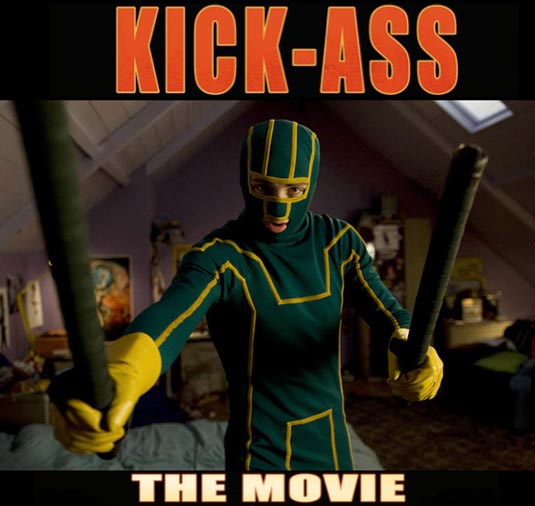 Check out these four clips from movie adaptation of Mark Millar's comic book "Kick-Ass" shown at Comic Con 2009 featuring Kick-Ass, Hit Girl and Big Daddy in bloody action. This looks amazing and funny but certanly not for kids!
Kick-Ass follows a high school dweeb named Dave Lizewski (Aaron Johnson). Lizewski decides to become a superhero, even though he has no athletic ability or coordination. Things change when he eventually runs into real bad guys, with real weapons. Nicolas Cage plays a former cop who tries to bring down a drug lord and has trained his daughter (Chloe Moretz) to be a lethal weapon.
Director Matthew Vaughn (Stardust) tells AICN that  "Kick-Ass" is "definitely the best movie I've ever made".
The film stars Nicolas Cage, Aaron Johnson, Christopher Mintz-Plasse, Lyndsy Fonseca and Chloe Moretz.
[CLIPS REMOVED – DEMANDED BY LIONSGATE]