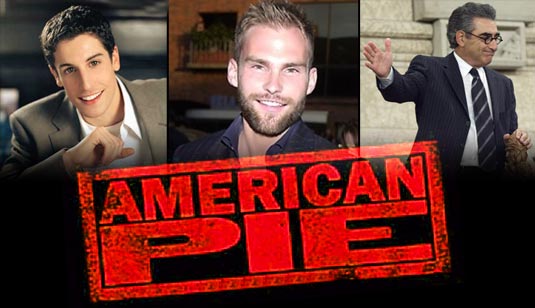 Yesterday The Hollywood Reporter announced that three of the stars of the original films Jason Biggs, Seann William Scott and Eugene Levy have all completed deals to star in American Reunion. They're also in talks with original cast members Thomas Ian Nicholas, Tara Reid, Chris Klein, Mena Suvari and Jennifer Coolidge to reprise their roles too.
The script for American Reunion, the fourth film in the American Pie franchises (almost the direct-to-video sequels), will come from Jon Hurwitz and Hayden Schlossberg who previously teamed on Harold and Kumar Escape from Guantanamo Bay. The combo will also direct this flick.
Chris Moore and Craig Perry will produce. Adam Herz, who penned the originals, and Paul and Chris Weitz, who directed the first flick, are executive producing.
The Hollywood Reporter story doesn't get into much more detail, and it doesn't mention the fact that Seann William Scott just checked himself into a rehab. Shortly after that it was revealed Scott had "voluntarily admitted himself for proactive treatment to address health and personal issues" due on a statement from his representatives.
At this stage there are no plot details, but based on the title I can only take for granted we're looking at a high school reunion story, which should give Hurwitz and Schlossberg plenty of work to be done. The last sequel was American Wedding in 2003 and it was much less fun than original two films in the American Pie series. A branded franchise generates four very tied spin-offs: Band Camp, The Naked Mile, Beta House and The Book of Love.
If they can bring back smelling a hint of the chemistry and humor that made the first two films and push it toward success and triumph to earn more than a half billion dollar hits, then why not? It could be fun.
The question is will Filch get Stiffler's mom…AGAIN?
Source: THR