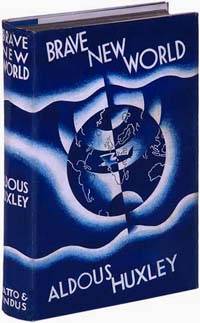 Ridley Scott and Leonardo DiCaprio will team up for an adaptation of Aldous Huxley's 1931 novel "Brave New World."
The novel has had numerous TV adaptations, but this will be its first outing on the big screen. Scott will direct from the script by Farhad Safinia ("Apocalypto").
DiCaprio will play the main character in the story, Bernard.
The book takes place in the seemingly perfect 26th century world that has achieved harmony by tightly controlling birth, which takes place mainly in laboratories, and outlawing family. The society is split into five clearly-defined castes which determine height, intelligence and prospects.
Bernard is a member of a lower-caste and he is in love with Lenina. Things get complicated when "the leaders of the society find his behavior antisocial."
DiCaprio's production company Appian Way owns Huxley's book. Scott and DiCaprio will also work as producers on the movie.
Production is expected to begin when Scott finishes work on "Robin Hood" and DiCaprio ends filming on sci-fi action "Inception."