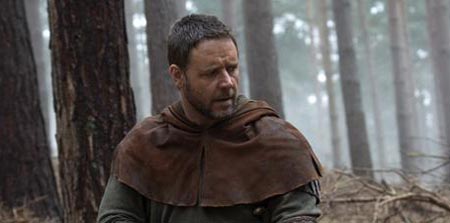 Thanks to USA Today we have the first photo of Russell Crowe in costume on the set of Ridley Scott's Robin Hood.
He did it finally – lose enough weight and looks like Maximus and even his Gladiator haircut is the same. Crowe toplines the movie, which is a retelling of the origins of the key characters of the Robin Hood legend.
"He doesn't have the old Robin Hood tights. He's got armor. He's very medieval. He looks, if anything, more like he did in Gladiator than anything we're used to seeing with Robin Hood,"
producer Brian Grazer says.
"Oddly, it's a metaphor for today. He's trying to create equality in a world where there are a lot of injustices. He's a crusader for the people, trying to reclaim some of the ill-gotten gains of the wealthy. That's a universal theme,"
Grazer added.
The movie also stars Alan Doyle (lead singer of Great Big Sea), Kevin Durand ("Lost", The Blob in the upcoming "X-Men Origins: Wolverine") and Scott Grimes ("ER").They will play three of Robin Hood's Merry Men in the now untitled Hood pic. Cate Blanchett will play Maid Marian.
Grimes would play Will Scarlett, a skilled swordsman and Hood's nephew, Durand is Little John, Hood's right-hand man and Doyle is Alan a Dayle, who in lore was a roving minstrel and needed help when his love was being forced to marry another man.
Actors who have previously played Robin Hood on film include Errol Flynn, Sean Connery and Kevin Costner.
"Robin Hood" is in theaters May 14th, 2010.