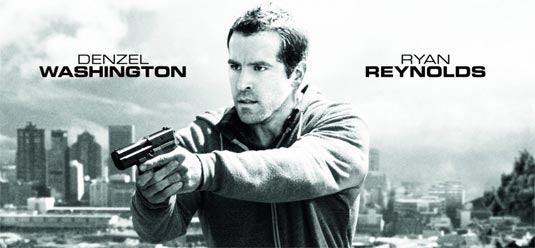 No one is safe. Yeah right, you have to love them all! I mean, we're here to talk about the upcoming Safe House action thriller and we get this – no one's safe shit from the second poster for the whole Safe thing?
Who's crazy here? Thank God most of us still think this movie deserves our full attention…
Denzel Washington and Ryan Reynolds in the leading roles – that's good for the start. They play a young CIA agent and the dangerous criminal who must team up to survive when their safe house is destroyed by mercenaries.
The unlikely partners must discover if their attackers have been sent by terrorists or someone on the inside who will kill anyone standing in the way.
So yes, we definitely expect a lot of action from Daniel Espinosa directed movie and some better poster as well!
The rest of the cast includes Brendan Gleeson, Sam Shepard, Vera Farmiga, Fares Fares, Robert Patrick, Nora Arnezeder, Liam Cunningham, Joel Kinnaman and Ruben Blades.
Safe House opens February 10th, 2012.