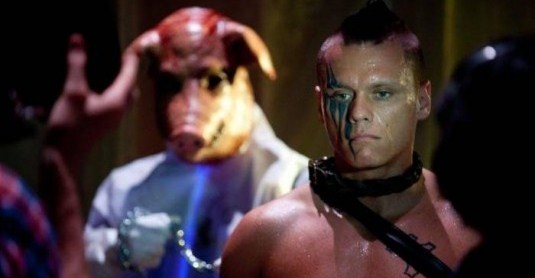 Crazy, sexy and bloody hell of a dinner movie! That's how they already describe the whole thing, but I'm not so sure what to think about this. First of all, Evil Feed is some strange mix of horror, action & martial arts. Which sounds great, but man – I totally hate the rest of the story 'cause if you loose a fight in that underground ring – they will simply serve you in the Chinese restaurant! Wtf?
Well, don't ask me, Kimani Ray Smith is responsible for the whole thing. He directs the movie from a script he co-wrote with Aaron Au. Today we have some cool photos from this project to share with you, but they won't fool me! I still think that the story is creepy enough to make me skip my dinner!
I mean, we have the Long Pig restaurant as the ultimate underground restaurant sensation. In other words – only the richest can taste the most refined meals and worldwide best…cannibalistic haute cuisine. Disgusting already? Read the rest of the story then:
Steven spent his entire life being the good son, dedicated all his time to the family business, The Long Pig Restaurant, known in the underground world for cannibalistic cuisine. When Steven hears that his father would rather sell the business to a stranger than pass it down to his own son, Steven has no choice but to chop off his head. With his father's head safely displayed in a cabinet, Steven and his nymphomaniac girlfriend have big plans for The Long Pig. They caputre elite MMA fighters and force them to battle in the restaurant's new "Pit of Gore" where blood thirsty customers get to watch their meals being tenderized. Steven calls this Tendertainment!

Meanwhile, Jenna returns to her father's karate dojo and discovers him missing. Calling on the help of his students, they set out to find their Sensei, kicking ass and taking names. Their quest takes a turn for the worst when Jenna is kidnapped by the Triads. She awakes in a holding cell at The Long Pig Restaurant only to discover what Steven serves for dinner… her father.

Continuing the hunt for their Sensei, the trail leads the boys to The Long Pig, where they grusomely witness their Master being chopped up and marinated for the evening's meal. Under pressure to save Jenna, our heroes get captured and are forced to fight for their lives in the Pit of Gore. One by one, Jenna watches her friends being slaughtered by sadistic gladiators. After witnessing her boyfriend being skinned alive, Jenna seizes an opportunity to escape. In order to survive, she must fight her way out of the restaurant or become the next main course.
Evil Feed stars Laci J Mailey, Terry Chen, Shirleyanne Mason, Alain Chanoine, Carrie Genzel and Derek Gilroy.
The movie is still without an official release date, but hey – let's go step by step with this one. Give us the trailer first, and then we can consider that release date part of the story!
Check the images below (click on them for a better look), and let me know what you think!